A review written by Julian Sykes, an English critic, of Rafał Blechacz's CD "The Chopin Piano Concertos", posted on Le Temps, Switzerland.

I wrote here on Saturday that the review article was not accessible but thanks to a Le Temps' contact person, I was able to get the full text.



original (French)




Rafał Blechacz, all to the song Julian Sykes

Rafał Blechacz, 24, is the Polish pianist touted as the successor of Krystian Zimerman in interpreting the music of Chopin.
If they share a certain conception of beauty, they are of two different temperaments:
the one who is wonderfully accomplished, but a perfectionist to the point of killing emotions,
the other who is more humble and youthful.
More touching, too.


The first recording of Chopin (Preludes Opus 28 and Nocturnes Opus 62) revealed a set of flexible and tidy playing, endowed with an aristocratic fiber, capable of fleeting flashes - but too rare. He lacked a bit of madness. The second disc dedicated to Haydn, Beethoven and Mozart did not meet expectations; too framed, too devoted. And here are the 1st and 2nd concertos of Chopin, delivered with more distinctly palpable emotions.


Blechacz relies on an eminently musical technique - one that was distinguished in 2005 Chopin Competition in Warsaw. He knows how to shape a phrase, to confer an expressive curvature on him, to play on the clear-obscure, to revive the speech when necessary (the coda in the first movement of Concerto No. 1).

His playing is charmed by his freshness, his grace. And a prodigious range of nuances that sometimes boarders on préciosité (preciosity). More feminine than Argerich, Blechacz brings his personal signature – the very elastic phrasing, the articulate left hand.

The Royal Concertgebouw Orchestra conducted by Jerzy Semkow brings him a fleshy support - too much in the 1st Concerto, but the 2nd is particularly successful. A certain playfulness characterizes the final movements, that of a young man full of aesthetic sense and sincerity.


Read Julian Sykes' review of Blechacz's recital in 2006 Verbier Festival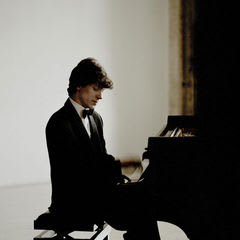 (↓ Copy of the original)
Rafal Blechacz, tout vers le chant
Julian Sykes


Le pianiste éclaire les deux «Concertos» de Chopin d'une palette de couleurs fine et étudiée

Rafal Blechacz, 24 ans, est ce pianiste polonais pressenti comme le successeur de Krystian Zimerman pour l'interprétation de la musique de Chopin. S'ils partagent une certaine conception du beau, ce sont deux tempéraments différents: l'un prodigieusement accompli mais perfectionniste au point de tuer l'émotion, l'autre plus humble et juvénile. Plus touchant, aussi.

Un premier disque Chopin (Préludes de l'Opus 28 et Nocturnes de l'Opus 62) avait révélé un jeu souple et soigné, doté d'une fibre aristocratique, capable de fulgurances passagères – mais trop rares. Il y manquait un brin de folie. Un deuxième disque consacré à Haydn, Beethoven et Mozart n'a pas répondu aux attentes: trop cadré, trop léché. Et voici les 1er et 2e Concertos de Chopin, livrés avec une émotion nettement plus palpable.


Blechacz s'appuie sur une technique éminemment musicale – celle qui l'a distingué en 2005 au Concours Chopin de Varsovie. Il sait façonner une phrase, lui conférer une courbure expressive, jouer sur les clairs-obscurs, relancer le discours quand il le faut (la coda dans le premier mouvement du Concerto N° 1 ). Son jeu séduit par sa fraîcheur, sa grâce. Et une prodigieuse gamme de nuances qui ­confine parfois à la préciosité. Plus féminin qu'Argerich, Blechacz ­apporte sa signature personnelle – tel phrasé très élastique, une main gauche articulée. Le Royal ­Concertgebouw Orchestra mené par Jerzy Semkov lui apporte un soutien charnu – trop dans le 1er Concerto , mais le 2e est particulièrement réussi. Une certaine malice caractérise les mouvements finaux, celle d'un jeune homme qui s'épanche avec tact et sincérité.