The interview that Rafał Blechacz had with Anna Skulska on Feb. 21, the day before the Chopin Birthday Week Special Concert on Feb. 22, which was broadcast on Feb.23 via Polish Radio 2 during the intermission of the Special Concert.
Excerpt of the interview in English that Dana prepared for the readers of Preludia.
(Many thanks to Dana.)
Listen to the interview (podcast)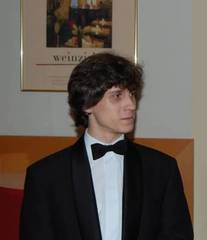 @Wiener Konzerthaus, November 2007
************************************************************************
(Main topics of the interview)
1.The impact that stage experiences have on the same performer and his interpretation.
2.Search of Chopin's secret ...
3.Meetings with the great musical masters: Valery Gergiev, Jerzy Semkow, Antoni Wit, Mikhail Pletnev, Maurizio Pollini and Krystian Zimerman.
4. His future plans related to the Chopin Year celebrations.
***********************************************************************
1.
The impact that stage experiences have on the same performer and his interpretation.
Anna Skulska: AS
Rafał Blechacz: RB
AS: We meet again in National Philharmonie in Warsaw where almost five years ago you had the great success. You come back regularly. One can say that you are the favorite of Polish public. It is faithful audience to laureates of Chopin Competition. But I think that every time you must captivate their hearts, aren't you?
RB: I have this task on every concert not only in Warsaw but in other places too and it doesn't matter if it's first time or many times. You have to win audience every time and it always is a very joyful thing for me to be able to play for the public who expect music from me.
AS: But when you come on a stage do you feel breathing of hall?
RB: Yes I do. This contact with public is very important from the beginning yet before playing. I feel when a public already know me, for example, in Amsterdam. I was there four times and felt that the public remember me with previous concerts .When I play for the first time this reaction is different. Another man is coming, a young artist so we will see what he wants to show us. It is nice because it mobilizes and gives a power for the best playing.
AS: Almost five years have been since the last Chopin Competition. You have met many new people, gained new concert halls, got ready for new repertoire. I think this all have influence on Chopin's music. Do you feel it?
RB: The stage experience changes a bit my attitude towards the same works and also towards new ones which I prepare for the next season or recording. I always go to recording studio when I've known works very well, when I've tested them in all possible ways on different stages for different public, with various pianos.
AS: You played Chopin's concertos with various conductors.
RB: I had four concertos under maestro Pletniev and his orchestra during my tour in Japan. It was his version, Russian version. There aren't changes in my part except for small ones. The orchestra had a monumental sound. Cooperation with maestro Semkov and RCO was very magnificent. I always dreamed of this sound and I was very happy when I heard it live. Also the cooperation with maestro A.Wit is well too. Chopin's concertos are full of youthful enthusiasm. My Chopin Competition, emotions and the venue Warsaw have a big influence on what's happening here now.
2.
Search of Chopin's mystery
AS: This year we get to know Chopin better than earlier. There are many concerts, many publications about Chopin's life and works and still they remain veiled, in the misterious mists. Do you try to discover this mystery? Which work was for you the biggest challenge?
RB: There are many moods in Chopin's works which can make you a reflection, offer different associations. They are very individual experiences but of course very important for the interpretations. These experiences ought to be reproduced in one's inside in order for a listener who came to hear this interpretation to feel them as his own experience.
Which Chopin's work was the biggest challenge for me ? Both of the concertos are very exacting, Mazurkas. I think that Polonaise Fantasie is very demanding work. It seems that it is Fryderyk Chopin's testament where there are the whole his works. There is polonaise and many fragments of improvisation, reflections, plenty of different feelings, emotions of sorrow, total despair to the great victory. The final is absolutely incredible. Every time, when I play it I am under the huge impression of how much emotions are included in it .What did Chopin feel at that time, what did he experience? I think one can't describe it, one can't say it.
3.
AS: One year ago you reminisced about the meeting with Maurizio Pollini. Did you have another occasion to see him again?
RB: No. I hoped to see him again in Italy this year during my tour but Maestro Pollini was in Germany at the same time. He performed in Berlin and Baden-Baden. But I was at
Krystian Zimerman's concert in Ferrara
at the theater. He played only Chopin's works, two Sonatas, Nocturne op.15, Scherzo in B minor and Barcarolle. His playing was very suggestive. I was under a big impression full of emotions. It was an unforgettable experience for me and a great lesson. The moment like this is an inspiration to make a search for music.
It is difficult to say now what. But it is somewhere in the subconscious and later in a right moment it will prove necessary. It was beautiful Chopin music and the public was full of enthusiasm.
AS: What about Maestro Jerzy Semkow?
RB: A person of great charisma and majesty. It was especially noticeable in the first parts of concertos which are "maestoso". The symphonic concept of them is interesting in accordance with the romantic style in my opinion. RCO liked Maestro Semkow very much. It was the first meeting with him. They told about his suggestiveness and his sense of humor.
4. Future plan + α(other questions not included in the podcast)
AS: A year ago you said that going into business of music world wasn't easy. Is it now getting better?
RB: Definitely better than at the beginning. Now I know all the people who arrange concerts for me in the world. I keep in touch directly with my agencies, my managers.
AS: You can set conditions, make choice...
RB: Yes, sometimes. The most important thing for me is choice of repertoire. What I want to play and feel in it is the best. The prestigious halls as the one in London and even Concertgebouw demand repertoire even two years forward. It is difficult to say if I will play, for example, Beethoven's sonata as I would wish myself. The program is changed because of this. However other pianists do the same, it's natural.
AS: Many pianists attach importance to instruments. Here in Warsaw there are several of them to choose. How is it in other halls?
RB: In the prestigious halls such as Tonhalle, Concertgebouw, Herkulessaal you can choose from two or three pianos. They are usually Steinways. You can encounter different kinds of quality, mechanism. I understand a pianist who goes around with his piano tuner or instrument. In the prestigious halls the level of pianos is very high and piano turners too.
In smaller halls it is not so favorable. For example small theaters in Italy have only one piano. The piano turner can make it very well or you can order another instrument from a bigger town nearby. But…sometimes it could be very good when you should play with an inferior piano, then you can appreciate it better and fly like a bird when you play it better. Sometimes playing on the lighter or heavier mechanism hardens and strengthens you. Artist must be up to a task in every situation.
AS: Do you analyze your interpretation after concert?
RB: You can't calm down your emotion so quickly, it's difficult. I can't sleep after concerto or recital. I fall asleep about 3 or 4 o'clock a.m. Also I found the way for it. If the road to next town isn't too far during my tour I go by car. I leave all behind me and think only about the future concert. Sometimes I analyze what I ought to correct, sometimes I make a deeper analysis.
AS: Do you talk with others people about your performance or listen to their opinion?"
RB: No, not really.
AS: What are you working on now?
RB: Bach, Mozart new sonatas and piano concertos. I already have the repertoire for new two CDs. They will not be Chopin's music. I can't say more about them, sorry.
AS: You came back from Italy. You performed in Rome, Milan. Come back to Rome, this hall...
RB: Santa Cecilia hall.
AS: You played the F-minor concerto. Was the atmosphere the same as during the Chopin Competition?
RB: It is difficult to say. The public's enthusiasm was very huge, two encores, thunderous applause, shouts of ecstasy, very nice behavior which is very pleasant for artists. They liked my interpretation and this is always very important for me. I played this concerto four times, including the one for the matinee for youth, students and children. The atmosphere was impulsive and spontaneous, very grateful public.
AS: And what about your plans in Chopin Year?
RB: US, Poland, London, Paris, Tonhalle, tour in Germany and Japan. I invite all very warmly to my recitals and concertos.
AS: Thank you very much.
RB: Thank you.