Universalmusic Italy site posted a news of Blechacz on March 26.
Universalmusic.it



Rafał Blechacz interviewed on Musica of March
In an extensive interview in the magazine

Musica, the twenty-five Rafał Blechacz retraces his career, from his first private piano lesson to the triumph at the 2005 Chopin Competition in Warsaw at age of 20.
Question after question, the story of this pure talent takes shape projecting toward the future, which he claims to be still marked by the works of Chopin, but also works by such great composers as Mozart, Beethoven and Szymanowski.

Blechacz also provides some anticipations of his next recording for Deutsche Grammophon, still in the design stage, but revealing that it will not be on Chopin's scores, nor with the orchestra.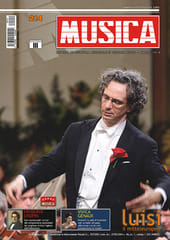 Rivista Musica March, 2010.
Rafał was interviewed by Luca Segalla.
If you got and read it, let me know...