A mini review of CD posted on Wiener Zeitung as of March 25.




In

Polish dreamer's hands
Blechacz, Rafał - Chopin Piano Conc.

How much his homeland appreciates him cannot be overlooked when shopping in Warsaw: the CD Chopin Piano Concertos by Rafał Blechacz is displayed prominently alongside that of the Polish super pianist Krystian Zimerman.

And, indeed, the 24-year-old must not hide. In 2005, he won the Chopin competition, managed to have a contract with Deutsche Grammophon label and now enables his homeland to celebrate with splendor the 200th birth year of their national composer this year, serving as evidence that Chopin cannot be separated from Poland.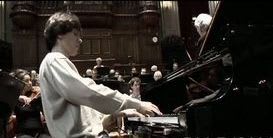 Because of his intimacy Blechacz's playing is pro-romanticist: with all the finger-acrobatics, however, dreamy tenderness remains maintained. Blechacz achieves it through fine touch, but even more by feeling tempo. It may be that he lengthens some of his melodic beauty very far, but the flow of the two piano concertos never weakens. Nice transitions and balancing acts are heard here in its grace, boosted by the support of the Concertgebouw Orchestra under (how it could be different here) Polish conductor Jerzy Semkow.