Lawson Taitte of The Dallas Morning News on its issue of April 22 selected four recently released albums of Chopin's works as Chopin's gift.

The Dallas Morning News

He writes,
"Finding the best new releases is just a matter of sieving the gold nuggets from all the sand. Fortunately, the current generation of Chopin players includes a number who comprehend and can convey the music's unique poetry. Perhaps more than their predecessors, they seem to understand the independence of each musical line, and the composer's debt to one of his favorite composers, Bach".

He then introduces four releases by such players.
Rafał Blechacz comes first.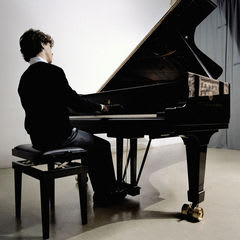 "Here are the best of the best of the newcomers":

"Piano Concertos 1 & 2

Rafał Blechacz, Royal Concertgebouw Orchestra, Jerzy Semkow (Deutsche Grammophon)

Blechacz won the last Chopin competition five years ago, only the fourth Pole ever to do so. The two concertos, both very early works, aren't the greatest Chopin. But this subtlest and most tasteful of young pianists treats them with such delicacy that they bloom like hothouse orchids. Even if you never cared much for these concertos, Blechacz will win you over".


(The other three performers are: Stephen Hough, Nelson Freire and Nelson Goerner.)

☆This article was quoted on California Chronicles, too.