From a blog written by Madokakip, a Japanese living in NY who went to Rafał Blechacz's NY recital on Feb.26.
She is a great fan of operas and maintains a fantastic blog about operas.
She usually doesn't go to piano recitals but happened to read another blog by a music teacher loving music & arts
writing about Blechacz's recital in Osaka last year and felt like hearing Blechacz's piano.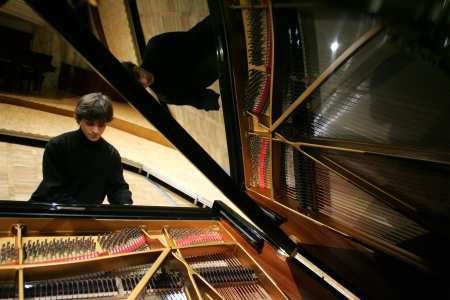 She writes: (excerpts from the long writing)

"Blechacz appeared walking to the piano, looks very young, naïve and fresh…looks 17 years old, but feels at home.
He was very quick in beginning to play the first piece of Bach (Partita No.1) without hesitation and was absorbed into the world of Bach,
creating his own world in less than no time.
How happily he plays piano!
The joy of life that he feels by playing piano came across to me.
I felt I saw many colorful soap bubbles blowing around him."


"My impression is that he is no longer at a level of trying to play skillfully or make the audience impressed or seeking for his own style.
He devotes himself to conveying the beauty that he sees in each piece exactly as it is to the listeners."


"I was astounded by Mozart's sonata (K570)….I didn't expect this extent.
He has a very rich palette of colors and his sound is like an orchestra.
Oh, the way he plays this phrase has a timber of wind instruments…If Mozart gives orchestration here, definitely it should be done by the wind…
A smile breaks out on my face unconsciously."


"How he uses the left hand for the low voice is light and charming.
Other pianists may have sounded louder but he was light and soft.
It gives this piece distinctive liveliness and playfulness as if sticking out his tongue….
I felt as if I enjoy with him blowing soap bubbles."


"He has an extraordinarily wide range of sound variations.
He knows thoroughly how the piano as an instrument should be played to create each desired sound."


Madokakip was then surprised by Blechacz's playing Debussy's "Pour le piano" with a totally different mode.
It was unbelievable for her that this piece was played in such a manner by the same pianist:
"formidably powerful heavy bass sound; optimum balance between maturity and youthfulness."


During the intermission, she made a call to her partner, asserting that it is the biggest mistake in his life not to be here at the concert hall.
After the recital, she called her parents in Japan and told them never fail to go to Blechacz's concert if he comes to Japan.

The next day, she purchased all the CDs by Blechacz.


Her conclusion:
(all the CDs are beautiful but) you must listen to Blechacz's piano live to really appreciate his true merits.
Never miss an opportunity, if any, to attend his concert that is scheduled in your vicinity,
otherwise I'll call you to declare, "It is the biggest mistake in your life if you miss the Blechacz's concert!"

She pledges to spread Blechacz's music to her colleagues and acquaintances in NY and America.
She believes he deserves a bigger audience.


I'm very pleased to know that fans of music other than piano were deeply inspired by Rafał Blechacz's playing piano.
I'm a fan of symphonic music. Sometimes I feel it strange that I maintain this website about a single piano musician.
But he offers universality. His music reaches the deepest realm inside that is common to all.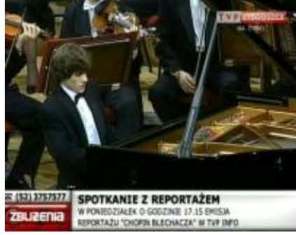 TPV Bydgoszcz will air a reportage "Chopin Blechacza", encore broadcast from 2005 Competition incl. shooting the final concert from the backstage,
@17:15 on Monday (local time).