Rafał Blechacz greeting, playing Heroic Polonaise (video)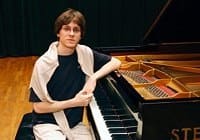 @ UMK's Hall

Rafał Blechacz invites you to Festival of Science and Arts in Toruń.
He will give a recital at UMK: Uniwersytet Mikołaja Kopernika (Nicolaus Copernicus University) at 17:00 on April 20 in commemoration of the event.
Program includes pieces by Bach, Mozart, Debussy and Chopin.



☆

From the Festival's website:
Invitations to the concert will be won by taking part in competitions organized by several media.

(I've seen many many articles about the competition and shortage of the tickets recently.
Sincerely hope that as many young people, students as possible who honestly love Blechacz's music can join the recital.)


I got this video from Karolina, a fan of Rafał who'll try to get the ticket through the competition.
Many thanks to Karolina.
According to her, there will be an event of debate held at the university and Rafał will be joining the debate.
The theme is "interpretation of music".



With a special request from Rafał Blechacz, the entire piano class of Music Academy in Bydgoszcz will be invited to the recital.






Happy Easter♪