Website of UMK: Uniwersytet Mikołaja Kopernika (Nicolaus Copernicus University) offers a video clip of part of Rafał Blechacz's recital on April 20.
He plays Chopin's Ballad nr.3.

The concert programmed as a part of the Festival of Science and Arts in Toruń was dedicated to the memory of the victims of the presidential plane crash in Smolensk.

Please watch the video.





(Program)
J.S.Bach - Partita nr 1 BWV 825
W.A.Mozart - Sonata KV 570
C.Debussy - Pour le piano
F.Chopin: Ballad op. 47 nr 3
Scherzo op. 20 nr 1
Mazurkas op.17
Polonez Fantazja op. 61
(encore)
Chopin Nocturne in C sharp minor, Mazurka op?


"Not always, when I play Mazurka in A Minor by Chopin, I've had so deep an experience as today".
(Rafał Blechacz, after the concert in Toruń)

- Nie zawsze, gdy grałem mazurka a-moll Chopina, miałem tak głębokie przeżycia jak dzisiaj - przyznał po wtorkowym koncercie w Toruniu Rafał Blechacz.

********************************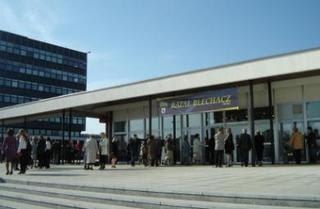 Aula of UMK (Hall of Nicolaus Copernicus University), photographed by Dana



A participant of the discussion and recital

wrote to me;

(Quote)
Rafał had a long meditation before the Polonaise. This work represents so plenty of emotions that it can be said that there is the whole history of Poland.
He said in the philosophical debate after the recital that

never before playing of Mazurkas op.17 was so strong a metaphysical experience like during this evening.


In the recital, after Mazurka No 4 op.17 was the long silence.

Rafał also said,
"Artists ought to understand music from every aspect: understand composer's intention, have intuition of style, know freedom and limits of interpretation".
This all you could hear in his concert in Torun.
Baroque, classicism, impressionism and romanticism. The difference between them was very much audible as well as composers' intentions and Rafal's interpretation.
Bach - mathematical precision, Mozart - opera, Debussy - painter, Chopin - emotions.
All were very beautiful like a speech between humans and the nature.

Public gave Rafał standing ovation after the recital, plenty of flowers and he played two encores Nocturne cis-moll and Mazurka.
(Unquote)

(A sincere appreciation to Data for the contribution.)






********************************

Recently my husband and I went to a popular pianist's recital. During the intermission, I asked him how he felt of the performance. Instead of answering, my husband abruptly said,

"Blechacz is a true pianist. When listening to him I feel the existence of God.
I believe he has encountered the holy existence sometime in his life. He plays for such an existence. His music is a prayer. His music brings listeners to a higher state of mind. I really feel my spirit brightened. What distinguishes him from others is his modesty. He is modest because he truly recognizes the deity. The unrivaled metaphysical pianist, the reason why his playing, especially that of Chopin is so moving."

「ブレハッチは本物の演奏家だ。彼の演奏を聴いていると、僕は神を感じる。
彼は神に遭ったことがあるのだと思う。彼の演奏は、だから祈りなんだ。人を精神的な高みに導く。僕も聴いていると精神がぴんぴん伸びる。他の演奏家と決定的に違うのは、彼の謙虚さだ。彼の謙虚さは、神に対するものなんだ。精神性が極めて高い、だから人を感動させられるんだよ、ショパンのような音楽は特にね。」
(最近とあるコンサートに行った時、連れ合いが突然口走った発言デス。連れ合いはブレハッチについて書かれたものはひとつも読んだことがありません。CDとコンサートで聴いただけです。)