From Torun Gazeta.pl as of April 11 (Polish)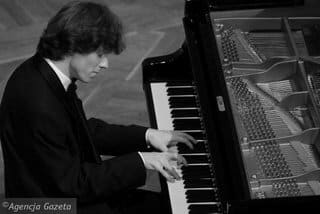 Rafał Blechacz will play for the victims of the disaster
Rafał Blechacz, together with the organizers of the concert in Toruń – Marshal Piotr Całbecki Rector of UMK Prof. Andrew Radzimiński, agreed that his concert will be dedicated to the memory of the victims of the presidential plane crash.

Performance by Rafal Blechacz in Toruń - although during the Chopin Year - will not be limited to performances of music by the most famous Polish composer of the Romantic era. The pianist will present works by Bach, Mozart and Debussy.

The concert is a real godsend for music lovers. Since the bravura win in the Chopin Competition Blechacz is recognized as one of the finest pianists of the world. His performance is characterized by virtuosity without routine and pride. The musician has the nature to quest for, therefore, his interpretations are full of freshness seasoned with extraordinary sensitivity.

The artist performs at the largest and most prestigious halls of the world. He recorded several albums for the legendary record label Deutsche Grammophon.

Blechacz will play at the auditorium of the UMK on April 20 under the Science and Art Festival and the Chopin Year. - Due to the tragic event, the artist, the Marshal and the Rector decided that the concert will be dedicated to the memory of the victims of the plane accident - says Beata Krzemińska, a spokeswoman for the Marshal's office.

As was unofficially learned that Rafał Blechacz wants to include a special additional piece in the repertoire.



Gazeta Pomorska as of April 12
TPV Bydgoszcz as of April 12
Many other websites report this news.

cowtoruniu.pl
Blechacz will play Mazurkas, Scherzo and Polonaise by Chopin and other composers'.
He will not take performance fees and says that this is his gift to the region on the occasion of the 200th birthday of Fryderyk Chopin.