Collection of mini-reviews of Rafał Blechacz's CD "Chopin The Piano Concertos" recently posted.
by Paul Boekkooi, posted on Rapport, on March 20 (South Africa).
Original review (Afrikaans)


Rafał Blechacz (24), winner of 2005's 15th International Frederic Chopin-Piano Competition in Warsaw, the playing of both of Chopin's piano concertos with his compatriot Jerzy Semkow as a conductor is a crowning jewel among the consignment of Chopin CDs specially issued for this year.

Blechacz is the first Pole to win this competition since 1975, when Krystian Zimerman walked away with top honors.

In both concertos he fell in detail but still refined playing. The improvising nature of the solos shows he leaves his understanding of rubato outstanding. It's a combination of radiant and poetic musicality like a fancy collar (?), where necessary, with dramatically charged moments always exactly placed right.

In the concertos' slow sections, both marked Larghetto, have agility and show a sensitive pianistic expression spectrum in which tranquility close together. Semkow, and the orchestra's accompaniment were very light and accurate.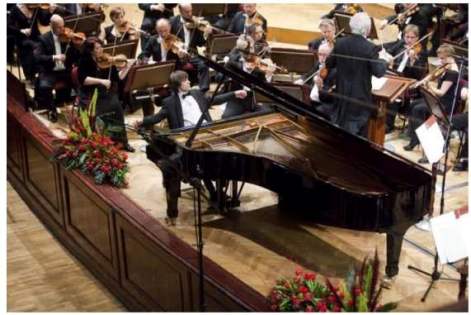 Feb.22, 2010, Warsaw


by Olivier Brunel, posted on Altamusica.com on March 31 (France).
Original review (French)



Winner of the Chopin Competition in Warsaw in 2005, the great Polish pianist Rafał Blechacz recorded in the studio, after a beautiful concert, the two piano concertos. Royal sonority, noble phrasing, and a lot of ardor, of impetus and youth in the First, of tenderness contained in the Second.

And construction is already very mature of these works in concerti accompanied by one of the best European orchestras, the Royal Concertgebouw of Amsterdam, led by the Polish conductor Jerzy Semkow who seeks to demonstrate that the orchestration is not as flavorless as the reputation that one makes historically. And who will reach there if we judge by the magnificence of sound by the Concertgebouw Orchestra in a state of grace.


(Original)
Gagnant du Concours Chopin de Varsovie 2005, l'excellent pianiste polonais Rafał Blechacz enregistre en studio, après un beau récital, les deux Concertos pour piano. Sonorité royale, phrasés nobles, et beaucoup de fougue, d'élan et de jeunesse dans le Premier, de tendresse contenue dans le Second.

Et aussi une construction déjà très mature de ces œuvres de concert accompagnées par un des meilleurs orchestres européens, le Royal Concertgebouw d'Amsterdam, dirigé par le chef polonais Jerzy Semkow qui s'efforce de démontrer que leur orchestration n'est pas aussi fade que la réputation qu'on leur fait traditionnellement. Et qui y parvient si l'on en juge par la somptuosité sonore d'un orchestre du Concertgebouw en état de grâce.



posted on nachrichten.at on April 2 (Austria).
Original (German)


Stroke of luck

You would think that as a very young pianist Rafał Blechacz could be just new to Chopin. Surprisingly he has a lot. As a Pole, and of the same age as Chopin, when he wrote his two piano concertos, he has found not only a deeply emotional access, but he understands to internalize this music with his elegant playing so, without letting it all put the drama. Technically, he succeeds standing on the things superbly supported by the Concertgebouw Orchestra of Amsterdam under Jerzy Semkow, a drawing of crystal clear interpretation with every detail.



by David Patrick Stearns, posted on California Chronicle on April 2 (U.S.)
Original


(a part of review to cover several Chopin CDs released recently)
The Russian Primakov and Polish Blechacz distinguish themselves in an extremely crowded discography, the former with his crisp, smart, unsentimental and always danceable renditions of the mazurkas, the latter with concerto solo movements that feel as direct as speech even in some of the most lyrical music written for the piano. Conductor Semkow is unusually attentive in the rudimentary orchestral parts.