Rafał Blechacz at autographic session in Łódź, May 20, 2010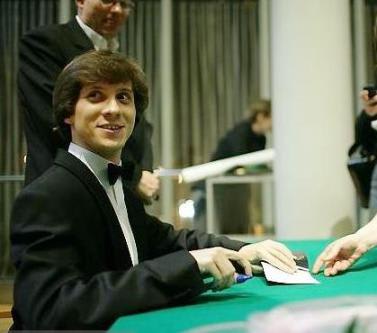 from
Łódź Gazeta.pl
(see other pictures)
(Thanks to Jan for the info♪)
Interview with Andrzej Haluch, Director of Warsaw Artists Management (Polish)(audio)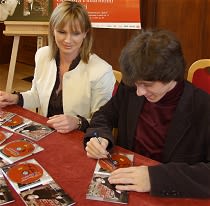 (Blechacz's previous appearance in Poznań, Nov.2007)
Andrzej Haluch
is talking about Rafał Blechacz's concerts in this year. This year Rafał is busy because he would like to play on the most important scenes in the Chopin's year ;
about concerts in Poland ( Łódź , Poznań , Kraków ) , rehearsals before these concertos;
that Rafał is spending his time on studies philosophy in Toruń; he is going to write (a paper for) doctorate; about his fans around the world and the website by his fan (=this site Preludia) for people to see pictures and read reviews.
(The link with the outline of the interview was offered by Karolina. Thank you for your contribution and ENJOY the concert in Poznań!)
**Beata and Dana also informed me of this interview by Andrzej Haluch afterwards. Thanks for your vigilance!
(In this interview, it looks like there is a miscommunication about who is the author of this site;)
This site Preludia is written by an individual listener working occasionally with international volunteers from Poland, US and the Netherlands, etc... This site is meant for all the music lovers who want to hear and read about this special musician. Majority of the readers have had no opportunity to attend a real performance by Rafał Blechacz, mainly from a geographical reason. But their love of his music and the depth of understanding of his music are amazingly profound, partly because they can hear the music not only via published CDs but via web broadcast of concerts. A few days ago many people were able to hear his latest recital in Germany; his clear, beautiful and purifying sound. The situation is tough for musicians (and I feel sorry for that) but today's world is democratized for music fans. What I do on this site is to contribute to this democratization. Why? Because I know that Rafał's music makes people happy. I truly believe that Rafał is the once-in-a-hundred-year talent and the gift coming down from Heaven.
I also would like to thank those who contribute to this site day by day, those enthusiasts of Rafał's music from US, Poland, the Netherlands as well as those who send me news and their stories about Rafał's music. All fully understand how valuable it is to live in the same era as this great artist