Some reactions from the audience in Rafał Blechacz's recital @Toruń on April 20, from Pomorska.pl.
You'll see someone who has a similar view to yours.





A young fan rushed at her idol after the recital in Toruń.




Rafał Blechacz in Torun - Shivers on the back

First there was Bach, Mozart and Debussy. In the second part of the concert, Chopin.
" We are delighted!" said our readers. Read on.


★ Arkadiusz Wyżlic from Gostkow (gm. Łysomice):-The concert was an unforgettable experience for me. I had tickets of the eighth row, and very good visibility and acoustics. I am delighted and enchanted, especially the second part of the concert.


★Alexander Klemańska-Helguero, a musicologist from Toruń: - I must admit that not once during the concert I felt shivers on my body. Blechacz - very young master of the piano in the first part of the concert he played Debussy. He is my favorite composer next to Chopin, whose music I rarely could hear live. Looking at Blechacz, his light, fine playing and gestures full of elegance, young Chopin came to my mind, to whom Blechacz is a little similar. May more often our concerts with his participation take place.


★Mierzwicka Margaret, a student from Toruń: - A ticket to the concert I managed to win, literally half an hour before it starts. I am very anxious to see how serious classical music recitals look like. Because I admit that this was my first, but certainly not the last. The audience stared at motionlessly and listened to the pianist. I'm very impressed.


★Barbara Zach, a student primary music school student in Toruń: - Yes I've never really listened to Rafał Blechacz. I loved this concert very much. It was cool music, sometimes sad, sometimes joyful. I also played piano for some time, and now I play flute.


★Dr. Janina Stankiewicz, Department of Economics and Management UMK: - I am in love with Blechacz! This is my second time of his piano recital. His approach gives me a huge impression, lightness and freedom. Phenomenal!


★Magdalena Stopińska, piano teacher at a music school - "Such a wonderful concert can never fail to please. In Blechacz's music there is such a nobleness that I even lack words. Crystal execution. His mazurkas are poetry.


★Janusz Nath from Toruń: - A few days ago I could not believe the incredible luck, which was a shocking news, "you have a ticket!" For one day, the day of the concert by Rafał Blechacz, Toruń was certainly the European Capital of Culture.

It is difficult to describe in simple words a unique state of spirit of the artist noticeable at every keystroke. Millions of precise strokes, rightly touching the keys.

An avalanche of sounds flowing out of the piano took over me with a peculiar depth and charm.
Closing my eyes gave a very vivid picture that the artist created before our eyes.

Certainly Frykeryk Chopin would be surprised, amazed, shocked and excited listening to the songs composed by himself. Amazing songs played by the amazing pianist penetrated deep into my soul. At times I felt that along with Chopin and the pianist I was absorbed somewhere in Polish fields, meadows, red sad poppies.

It was difficult to accept the idea that this was the end and I should go back to reality.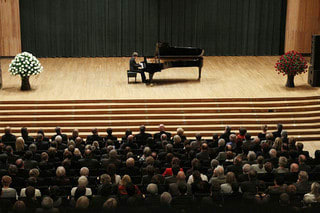 "…Of course Chopin in my country is a very important composer and when I play Chopin especially after my winning there was something something special.
I'm always very happy when I can play for Polish people in our concert halls…".
(Rafał Blechacz in an interview with Fred Child, Washington DC, US, March 2010)




★Dana's letter (encore)
Rafał had a long meditation before the Polonaise. This work represents so plenty of emotions that it can be said that there is the whole history of Poland.
He said in the philosophical debate after the recital that never before playing of Mazurkas op.17 was so strong a metaphysical experience like during this evening.
In the recital, after Mazurka No 4 op.17 was the long silence.

Rafał also said,
"Artists ought to understand music from every aspect: understand composer's intention, have intuition of style, know freedom and limits of interpretation".
This all you could hear in his concert in Torun.
Baroque, classicism, impressionism and romanticism. The difference between them was very much audible as well as composers' intentions and Rafal's interpretation.
Bach - mathematical precision, Mozart - opera, Debussy - painter, Chopin - emotions.
All were very beautiful like a speech between humans and the nature.

Public gave Rafał standing ovation after the recital, plenty of flowers and he played two encores Nocturne cis-moll and Mazurka.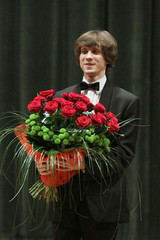 "Nasz pianista" 


Torun.gazeta.pl on April 25
Nowociczi.com.pl on April 26
These newspapers report that the University wants to organize the 2nd round of philosophical discussion with Rafał Blechacz and schalars including Prof. Władysław Stróżewski, who was not able to join this time, sometime next year.
(Thanks to Beata Dana for the news clips.)