From the website of serie Meesterpianisten (the Master Pianists Series, , offered by Riaskoff Concert Management, the Netherlands,
program about Rafał Blechacz's recital to be held at Amsterdam Concertgebouw on May 9.
It will be his 2nd appearance in Meesterpianisten. The 1st recital was on October 7, 2007.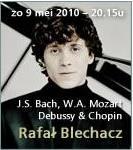 (Quote)
Explanation
"Holy devotion seems the key to the magic of Blechacz, who, in all respects, is an extremely conscientious performer. His supple virtuosity and pure insight of the score are just means to achieve a higher goal. As an exquisite sound architect, Blechacz creates sublime master pieces from musical material in style…This creates fascinating 'sound poems', which move organically and seamlessly and it seems to suggest what the composer in his noblest moments must have suggested ... Blechacz graduated with a ten (=perfect score) from the master class with his brilliant, dynamic and highly suggestive rendition of the 24 Preludes of Chopin. "

This was the comment of NRC Handelsblad following Rafal Blechacz 's superb debut recital at serie Meesterpianisten (the Master Pianists Series) in October 2007, two years after his glorious victory at the prestigious Chopin Competition. De Telegraaf headlined "Polish piano wonder" and also Trouw did not behind with "The World of pianists has a new coryphaeus. "

Meanwhile Blechacz has been recognized in all corners of the world. In the Netherlands, he also has performed with the Royal Concertgebouw Orchestra, with whom he will capture even both Chopin Piano Concertos on CD. His honest, crystal clear piano playing reflects a tremendous refinement and musical maturity.

Besides works by Debussy, Mozart and Bach in his recital program is also ample space for his great love of Chopin, the composer with whom he feels a lifelong bond. That intense relationship with the music of Chopin was manifested in his debut recital in a phenomenal way. De Volkskrant wrote "Blechacz imparts wild and sensual charm to Chopin's music " and explained: "That he does know what to do with Chopin is not surprising, but the 22 years old is unique, from hundreds of recognizable vision of the 24 Preludes put down, he traps you with the foresight on your seat. "

His big talent to make music clear and bright light as a feather was also nicely defined by the same newspaper: "... Blechacz changed unwieldy hammers in the mechanics of the Steinway for a tennis ball that rolls weightless and plummets rapidly over the strings..." Blechacz was born on June 30, 1985 in the tiny village of Naklo nad Notecią in the Polish countryside. "I was a busy child. Apart from the school, I practiced piano at home and did homework, "said Rafał with his characteristic honest tone.

His idol was and is, besides the deceased Arthur Rubinstein and Ignacy Jan Paderewski, Krystian Zimerman, who regularly advises on musical and logistical aspects of the pianist there.
(Unquote)


** Segments of the reviews referenced above are available on Blechacz official website.

Concertgebouw program page for May 9.

(Note: This preview was written early last year, way before Blechacz recorded Chopin's two concertos.)

(I like the way an artist is described in such a website in the Netherlands. My general impression of this country is that things are done in a fair, open, practical, meticulous and friendly manner.)

*** May 3 is Constitution Dan (national holiday) in Japan. I was told that Poland has their Constitution Day also on May 3. (coincidence!!)

**************************************

In autumn, Krystian Zimerman will work with Hagen Quartett
to play Quintet of Bacewicz and Schumann, and Quartet of Janacek in Tokyo and Osaka.

(Program)
Bacewicz: Piano Quintet No.1(1952)
Janáček: Strings Quartet No.1 'Kreutzer Sonata'
Schumann: Piano Quintet E flat major Op.44

(Dates)
Sept.28 Suntory Hall
Sept.29 Izumi Hall in Osaka
Sept.30 Musashino Citizen Hall, Tokyo
Oct.1 Toppan Hall, Tokyo
Oct 5 Tokyo-bunka-kaikan (Tokyo Culture Hall)

☆He is touring in Japan in May and June with all Chopin program.