"Rafał played extraordinarily again! After the first half he was called three times to bow.
The recital ended with thunderous applause, stumping and shouting for encore.
Rafał played two encores".


On May 14, Rafał Blechacz played a recital for Schwetzinger SWR Festspielen with a very short notice in place of an injured master pianist.





from Hamburg recital, Oct.2009 (Courtesy to ARTE)



"W.A. Mozart played in the same theater three times".

(Appreciation to Mr. Roman Frackowski for the gratifying news.)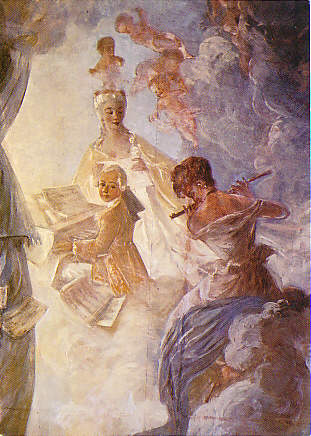 Rokokotheater ceiling painting by Carolus Vocke
W. A. Mozart as a child prodigy aged 14 during a visit to the Schwetzingen court




*****************************************

Rafał Blechacz will play Chopin's concerto in Poland during the rest of this month.

May 20 @ Łódź
May 22 @Poznan
May 28 @Krakow

Preview of Gazeta.pl on May 14 about Łódź:
"...It is the third time for Blechacz to play here; the first in Sept.2005 as a rehearsal for the Chopin Competition, the second in Nov. 2005 in the glory of the triumph..... "I had the impression that I was in the nineteenth century, when the much-loved concert virtuosos fluttered caps and hats, and women fainted from the experience" Magdalena Sasin reported in the review. No tickets since January, but an hour before the concert, "very limited" number of tickets will start selling....."