Pictures of Rafał Blechacz playing & receiving awards in Poznań on May 22
from
Radiomerkury.pl
(←See beautiful pictures!!)(←Hear Blechacz's interview!!!)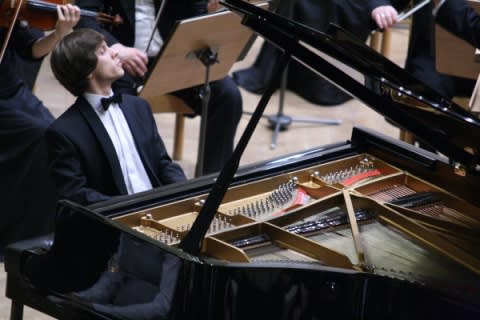 "The concert was great. It was amazing and unforgettable experience.
I will never forget that. I still hear sound of music. I can quote adjectives but it is not enough.
Words can't describe my emotions.
During encores when he finished a piece for couple seconds everybody was quiet and moved.
That moment was amazing.

After the concert Rafał gave autographs !!!!
I have his autograph and photo with Rafał .
It was amazing feeling to talk with him for a while. Rafał is magnificent !!!"
"
***A comment from Karolina, a fan of Rafał, attending the concert in Poznań.
She found this website, too. Actually, she is the one (a pretty girl) in the audience in the photo below.
Thank you and congratulations!