From an interview that Rafał Blechacz gave to Nasz Dziennik and posted on its site on September 26, 2009.
I posted the original Polish interview on Sept.30 on this site but I had no time in those days to put it in English.
I'm pleased to be able to catch up now.
Original interview (Polish)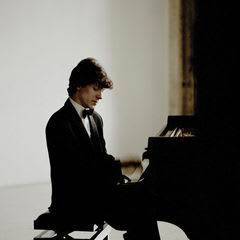 About the concertos of Chopin and faith in God
Father Arkadiusz Jędrasik talks with an excellent pianist Rafal Blechacz
--Your new album recorded for Deutsche Grammophon has just appeared on the Polish market. This time the piano concertos of Fryderyk Chopin. Why did you choose this very repertoire?
I have long planned to record for my third album repertoire with orchestral accompaniment. About the album I want to stress an important event, which is the year 2010 approaching- the Year of Chopin. I think these concertos are the most representative work of piano and orchestra among the creations by this composer. Therefore, such a decision.
--What prompted you to just execute the most recent recording with the Royal Orchestra of Amsterdam under the direction of Jerzy Semkow?
As early as during my first talks with Deutsche Grammophon, I said that I would like to record Chopin concertos to highlight the Year of Chopin, but as for orchestra and conductor, with the ones that would work best for me. Over the past three years I have been fortunate to play both of concertos by Fryderyk Chopin with various orchestras and conductors in the world. After the first contact with the Concertgebouw in Amsterdam (when I played Piano concerto in G minor, Saint-Saëns), I realized that with this orchestra, the concertos by Chopin would sound great! I was enthralled by the velvet, warm and very soft sound of the orchestra, especially the color of strings as well as wind instruments. This unusual sound would contribute to the atmosphere and aura of the Chopin concertos. In Chopin's piano works the tempo rubato is often applied. In such moments, the orchestra should be very flexible and attentive to accompany the soloist and follow him. Royal Orchestra in Amsterdam was just so - the musicians perfectly sensed and understood me. Also, it was very important to me that the recording is in the beautiful and acoustically perfect Concertgebouw Hall, with that particular instrument, prepared by that specific tuner.
--How did you obtain their cooperation in the preparation of the concertos that preceded recording the disc?
The most important was the very choice of the orchestra and conductor, with whom I could carry my interpretation of Chopin's concertos without problems. I had many meetings and discussions with Maestro Semkow about the theme of interpretation. We spent sufficient time for these discussions so that we were well prepared for recording. I had six recording sessions, we recorded a rehearsal and concert. It's a comfortable situation, as rarely happens, to have so much time on the recording, in such an excellent hall, playing with such an orchestra. It was very important to me because I did not feel psychological pressure – if I have time for both concerts to record well, experiment and try.
I was able to calmly plan everything and focus on music. We started recording the Concerto in E minor, then recorded in F minor. The atmosphere during the recording was very pleasant. Musicians has created a lot of fun playing, especially typical, popular fragments of the concertos. After hearing the recording material, I decided to give Concerto in E minor in the live version, which was recorded at the concert.
--How is conductor Jerzy Semkow for you? What distinguishes him from other masters of the baton?
The maestro is a charismatic conductor. He emanates a spell from him, which is given to the team. He is firm and the musicians listen to him, because he talks of his observations in a very convincing way. Orchestra came to love Jerzy Semkow very much, musicians had perfect contacts with him. The maestro understood my interpretation, he did not impose anything on me. He carefully took notes in the score of all my ideas, whether it is about agogics, color or dynamics. When it came to the recording session, the musicians were already well prepared for it. I felt very comfortable playing with him.
--This album is part of the anniversary of the 200th anniversary of Chopin's death (sic). You are the winner of the last International Chopin Competition, which opened a wide door to you towards the pianistic career. How is Chopin's music accepted in the world, which you play in different continents?
Works by Chopin are well accepted and highly appreciated everywhere. This can best be seen in Japan, where Chopin's music has grown to a level of almost divine worship. During my first tour in Japan I played Chopin's works only, because the agency in Japan wished as such. I even have my own fan club in this country. In Germany and other European countries, Chopin is also well taken. Recently I played his works in Spain. They reacted very spontaneously especially to the ballad and Polonaise-Fantaisie. Also Mazurkas arouse other emotions, although they are typical Polish dances, they always touch hearts of listeners throughout the world and move their heartstrings.
--How did you find the key to the interpretation of this music which has been well refined and renowned?
Of course, recordings are at our disposal, and could turn out to be inspired by searching visions of work and individual interpretations. Sometimes it is possible that ideas of other artists are suggested and you find their creative use. But I think that first of all you need to be faithful to what the creator himself left behind in the score. Sometimes you can pursue inspiration through penetration into the composer's personality, reading his letters and memories of students about his style and manner of playing. Obviously a major role in the search for interpretation is musician's intuition, which sometimes suggests that a given fragment has a sound exactly like this and not otherwise. Sometimes you have to trust your intuition and follow your heart. I can not stop admiring how in the mind and heart of such a young composer, who was then 18-19 years old, such beautiful and profound music were emerging, which we have in these two piano concertos.
--Which Chopin recordings are most inspiring for you?
Recordings by Arthur Rubinstein are very close to me (especially when it comes to Chopin's music). Both his early years, when he spurted great enthusiasm, energy, spontaneity, and later years, when we listen to Rubinstein of 70-year old whose playing is very mature, thoughtful and beautiful. He emanates from him grandeur and artistry. I remember that these recordings have fascinated me since childhood. Of course chopin by Krystian Zimerman, Maurizio Pollini, the recording of concertos by Claudio Arrau. Sometimes I like to reach out for recordings by Martha Argerich, who always exudes a great temperament. It also could be inspiration.
--From our conversation, Chopin is the most important Polish composer for you. Is there another artist whose music inspires you?

Without a doubt it is the Karol Szymanowski, whose music is very beautiful. In recent seasons, I presented at various concerts in various locations around the world, his works, including Variations op. 3. Karol Szymanowski's music is not well known everywhere, but everywhere the audience accepts it very well. His music is very diverse, has a lot of emotion, a lot of different characters in it. And audiences at concerts love it very much.


--How did you find your key to the interpretation of Szymanowski's music?

It is similar to Chopin's music process, in which I look for different routes. For its good interpretation my intuition helps, and a variety of recordings let inspiring. Very beautiful and interesting are the CDs of Szymanowski's music recorded by prof.Jerzy Godziszewski. At one time it was for me great inspiration and assistance in developing Variations Op. 3. Szymanowski's music has a lot of elements of impressionism, especially in the second period of the composer's works. Therefore, Claude Debussy's music helps me greatly in interpreting works of the Polish composer. Especially when looking for proper color, which is so important in Szymanowski. Debussy counts very much in his music, displays of emotion and strong expression. Of most importance in life of every artist in the interpretation of music is to be natural, because being natural is most convincing and true. Being natural best reaches the audience; it captures hearts of music lovers.


--Do you therefore find time for the concert pianist to have a private life and relax?

Of course, I find time for private life. It is very important not to lose yourself in music and have time for other things. So it is important to determine which concerts to be played in the year, to plan your time well. It would be a place for concerts, it's time to expand your repertoire and recording the next album. Music to a large extent fills my life, but like everyone I need time to stop, on reflection, to relax. Like everyone I go out on holidays to catch breathing, think and relax. I like to be silent after the concert, riding on car after a performance relaxes me very well. When I play concerts in Europe, almost always I travel by car. With planes, I had a lot of surprises and adventures - the delayed flights, lost baggage. Car gives convenience and independence - I can plan journey and get to the place "to the door."


--And how often do you spend time with your family?

Family is very important to me. Then, when possible, I try to travel together. This time I was in Amsterdam with my whole family, with my parents and sister. I also remember that for the first tour in Japan, which lasted over a month, we went together. It is very important if after various tensions and stress you have someone to talk and spend time with. I observe other artists and see that each of them tries to take someone close to tour. Because loneliness in a hotel can be scorching.


--How is the influence of faith and religion on you, as it helps you in life?

This area of my life is very important. In the life of concerts, the faith is for me mainstay and great support. It helps me very much survive everyday, all the difficult moments. During the Chopin Competition, prayer helped me very strongly, gave me strength and it was for me great support. In life, my strength is faith in God.


--What are your plans for the next concerts?

My immediate plans are linked to the Chopin Year. The year 2010 will be quite tight, because waiting for me touring all over Europe, the United States and Japan. So three continents in one year. That is why my CD with concertos by Chopin, I wanted to record right now, even in 2009, so I will have time only for concerts. And repertoire? Chopin, but not only - in the first part of the upcoming recitals I will play works by Johann Sebastian Bach, Wolfgang Amadeus Mozart and Claude Debussy. Also I'm working on Szymanowski, whose music is also very well received, and not so well known and often played as Chopin. So it's worthwhile promoting Szymanowski in the world. In Poland, I will perform concertos in February next year and then in May.


--What can we expect of your next CDs?

First of all, I will try so that they will be good recordings. After the concertos of Chopin, I'm planning solo album – but I do not reveal yet, about which repertoire. I have signed a contract with the DG for the next three CDs.


--I thank you very much and wish you many new successes.


**
A pleasant memory returned out of the blue.
Two years ago, on November 12, 2007, Rafał's recital at Concertgebouw (on October 7) was broadcast
by Radio 4 of the Netherlands.
I listened to it. Quite a few friends in Japan listened to it.
We chatted a loooooot after the broadcast.
We were especially impressed by his Haydn's sonata, which was very different from our image of Haydn.
We loved Rafał's.

The broadcast began at 4:00 am JST (at 20:00 CET on Nov.11)
and we called the event "The Operation Haydn before Dawn".

A few days before that, the news that Rafał was given the platinum disk for his DG debut album "Complete Preludes" arrived.
So, we were already very happy.