Rafał Blechacz gave a recital at Dortmund Konzerthaus for Klavier-Festival Ruhr @20:00 on June 12.
"Rafał got a thunderous applause after the first part of his recital in Dortmund tonight. He had to come out twice to bow to thank the audience.
At the finale, after the Chopin's part, he received a huge standing long lasting ovation and played two encores for the enthusiastic audience".
(Deepest gratitude to Roman Frackowski for the latest news.)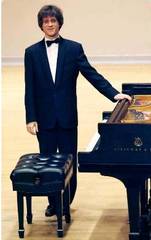 @Gilmore International Keyboard Festival
April, 2008
Good luck & health to Rafał, his family and his audience in France, too!