A mini review of Rafał Blechacz's CD of Chopin's two concertos, written by François Lafon, posted on musikzen.fr on Jan. 30, 2010.

Original review (French)




A classic named Chopin ...
... by a pianist still a little tender


The young Pole Rafał Blechacz - looking frail but firm ideas - began with Chopin's Preludes with clear contours, but parsimonious poetry. Here it is in the two concertos, the early works of Chopin not in Paris yet.

Finger light, clear sound, very controlled rubato: If you are looking for a crazy Chopin like Samson Francois, or enthusiastic one like Martha Argerich, go your way.

Chopin by Blechacz reminds you that while listening to Mozart, he learned the music. In the second concerto, the pianist loosens a bit, but remains basically classic.

Perhaps this is due to the wise direction by the veteran Jerzy Semkov on top of the Amsterdam Concertgebouw more mellifluous than ever. Reading the liner notes we learn that Rafal Blechasz played two concertos in his hometown of Naklo, with the Philharmonic Orchestra of Poland under the leadership of the fiery Antoni Wit. Too bad that Deutsche Grammophon did not move for the occasion.
by François Lafon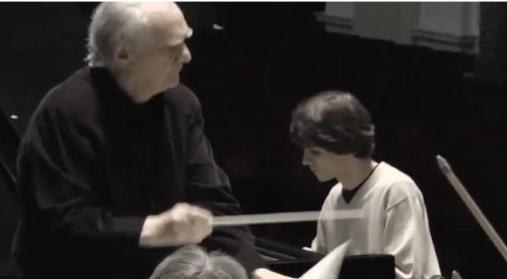 The title of this review reminded me of another review in Spain written late last year.
Cosme Marina, Spanish reviewer, said that Chopin music are "works in which classical architecture wears a romantic spirit where shines the deep emotion that surrounds his musical ideas".

Cosme Marina's description of Blechacz playing was;
"His two versions are very interesting, vibrant, full of vigor and, at the same time, thoughtful, not impulsive.

In Blechacz's interpretation, aesthetic freedom can be perceived that fits very well with the lyricism of Chopin. This album shows a good example of the maturity of the Polish pianist at the keyboard in the artistically honest work seeking for the profoundness way above the immediate shortcut".
(End of excerpt)


It's evident which reviewer is more careful in observing and accurate in sensing the musicality of the pianist.