Japanese
Performance today
broadcast Rafał Blechacz's performances of Chopin and Bach during its program on July 27.
Host: Fred Child.
The recorded program is available for the next week.
Performance Today's program page.
Please go to
HOUR 2
Listen
Rafał Blechacz's performances are:
Chopin's Prelude op.45 (from the recording for Deutsche Grammophon) @1:20
Bach's Partita No.1 at
a recital for Schwetzinger SWR Festspielen on May 14
@46:10
(Courtesy: Roman Frackowski)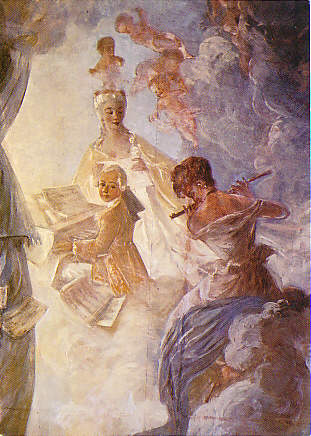 Rokokotheater ceiling painting by Carolus Vocke
W. A. Mozart as a child prodigy aged 14
during a visit to the Schwetzingen court
My deepest appreciation to
Fred Child
for having performances of our exceptional pianist in his program again and always being caring to his listeners.