Japanese
From
my archive
;
this is Rafał Blechacz's remark (interview?) appeared on Polityka dated Feb. 15, 2005, eight months before the Chopin Competition in Warsaw. He won the National Chopin Competition and was ready for recording his debut album.
(What am I doing?)
Rafał Blechacz, the winner of the National Chopin Piano Competition:
For a longer time I'm mainly engaged in all the preparations for the International Chopin Competition to be held in October. I practice as much as I can - the statistical average of seven hours a day. But I do not play from morning to night, trying to manage time reasonably, so as not to go through motions of practice In the National Chopin Piano Competition, which was a dress rehearsal for the "big" competition, I participated to be able to check the program (one has to perform the entire repertoire of autumn contest) under stressful conditions of rivalry.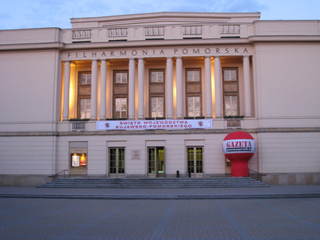 Pomeranian Philharmonic (Filharmonia Pomorska) in Bydgoszcz
I already have some experiences of joining the competition in Poland and worldwide, most of them ended happily for me, but I've not taken part in the monographic competition so far devoted to works of one composer. Playing Chopin is difficult, especially since the competition program lasts for a total of nearly three hours. Therefore, we must know how to distribute power and for this the national contest was useful for me. I am also happy that I could appear with the orchestra - even though it was not the first time, but the more the better. But not only dealing with Chopin: in mid-March, in the auditorium of the Pomeranian Philharmonic in Bydgoszcz, I will record for Accord my first CD with works by Debussy and Liszt. Thanks to that, I have a chance not to be classified at the beginning exclusively as a chopinist. Moreover, I believe that playing music by other composers also positively affects my interpretation of Chopin. The CD will be released in autumn, in time for the competition.
When I don't play, I like listening to music. Not only piano, but also, for example, symphonic music. I have another passion: organ music. I don't play organ concert, but when I have time and possibility, for example, in the church. First of all, Bach.
(End of the article)
*****************************************
Rafał Blechacz @Royal Palace
June 30, 2005
I have several articles at hand in "my archive". For example, a review of Blechacz's playing with maestro Gergiev in Moscow (May 2006), another review of the concert with the orchestra in Toulouse (Oct. 2007), the other one of his recital in Zürich (March 2008), an interview for Steinway in Vienna (spring 2008), another interview in Germany (autumn 2009), etc...
I asked one of my friends which one she is interested in reading most and the answer was "all".
Well, I'm willing to work on them (of course!)