Drogi Rafale,
wielbiciele Twojej sztuki pianistycznej z ogromna radościa oczekują koncertow
w Warszawie.
Życzymy Ci pięknych przezyc, niezwykłych wzruszen i radości w sala,
która była świadkiem Twojego triumfu.
Będziemy razem z Tobą.
Melomani z Polski i całego świata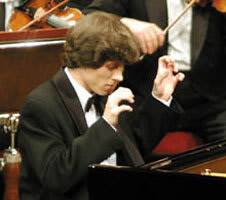 Dear Rafał,
the admirers of your piano art are waiting with the biggest joy for your concerts in Warsaw.
We wish you beautiful experiences, extraordinary emotions and joy
in the concert hall which witnessed your triumph.
We will be with you together.
Music lovers from Poland and around the world