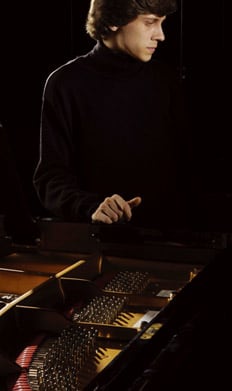 Japanese
From
my archive
;
A review of Rafał Blechacz's debut recording "Piano Recital" written by Bryce Morrison for Gramophone Magazine January 2006.
Bryce Morrison wrote liner notes for Blechacz's "sonatas – haydn, mozart, beethoven" for Deutsche Grammophon.
**************
Rafał Blechacz Chopin Polonaise No 6, 'Heroic', Op 53 Debussy Suite bergamasque Liszt Two Concert Studies, S145. La leggierezza, S144 No 2 Schumann Piano Sonata No 2 Szymanowski Variations, Op 3
Rafal Blechacz pf CD Accord ACD136-2 (66' • DOD) leggierezza') but the sound is adequate and Blechacz is clearly a talent to watch, one that could well move beyond the limited world of competition success.
Bryce Morrison
Rafał Blechacz is a 20-year-old Polish pianist. Winner of many prizes (in Morocco and Japan as well as, most recently, the Chopin International Piano Competition in Warsaw), all his performances show the engaging freshness and vitality of first love unblunted by over-familiarity. His Schumann Sonata has all the nervous intensity and propulsion of a live performance with a racy response to such endearing pell-mell instructions as 'as fast as possible', 'faster,' and 'still faster'. He is notably clear-sighted in the finale, even if his occasional lack of poetic revelation makes you regret Schumann's decision (egged on by evercautious Clara) to replace his original intricate and audacious finale with a weaker alternative.
Blechacz is again formidably assured in his selection of Liszt etudes, most notably in the storming central outburst in 'Waldesrauschen' where 'the boughs droop down not so much as leaves but as tassles which the wind sways and dashes to and fro' (Sacheverell Sitwell).
But his greatest success is on native ground when he turns to
Szymanowski's
early and opulent Variations, and never more so than in
the final Allegro con fuoco**
(where Szymanowski takes his cue from Brahms's Handel and Paganini Variations), passing on its virtuoso glory with unabashed energy and enthusiasm. Again, if his way with Debussy's Suite bergamasque suggests more sense than sensibility (his 'Passepied' is marginally too fast to suggest fully its pattering archaic charm), his Chopin Polonaise is truly heroic.
Accord's notes are muddy and ill-defined (they mistake Liszt's lamento' for 'La
(the review ends here.)
**You can hear the Allegro con fuoco of Szymanowski's Variations from this Video. (at 00:50-)
****************************
From
blog of A. P. Møller Skolen (Dane)
"Wednesday 11 August 2010
Festival Concert at A. P. Møller Skolen
On the 5th of August a classical piano concert was held at A. P. Møller Skolen as part of the Schleswig-Holstein Music Festival. The 300 tickets were available and were all sold out to the classical audience who attended the concert by the Polish pianist Rafał Blechacz".