Rafał Blechacz won the 2005 Chopin Competition in Warsaw in an unprecedented manner (late at night on Oct.21, 2005 or early morning on Oct.22).
The entire universe agreed that Blechacz is the best interpreter of Frédéric Chopin on this planet, the verdict remains true until today.
And it remains a very special day for his fans.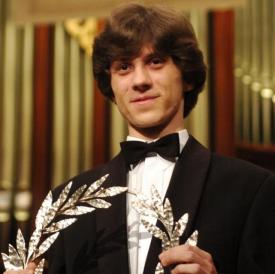 For his fan, especially recent readers of this blog,
"The Winner

Rafał

Blechacz (video)",
produced by TVP and ARTE.
*********
Two Japanese fans who made it to the recitals in Dortmund (Oct. 14) and Berlin (Oct. 17) sent me a comment.
"We were fortunate to be able to attend Rafał's recitals twice in a few days period. We loved both; he played beautifully in the intimate, heart-warming ambience in Dortmund and in a bit crisp and tense atmosphere in Berlin. For us it was a right decision to go there. We are really very much looking forward to seeing him again during his 2013 Japan tour!"
*********
It let me remember another Japanese fan who went to his recital at Salle Pleyel, on June 7, commenting;
"My husband and I were present at Salle Pleyel recital by Rafał, so I was sepcially delighted to see
the photos on that day on the blog
. We were deeply impressed by his wonderful playing and became full of life."
Many thanks to you for the comments (and sorry for the big delay!)