This is a review of the concert in which Rafał Blechacz played Chopin's piano concerto in F minor with the London Symphony Orchestra under Jaap van Zwedenat at the Royal Festival Hall on October 26, posted on the website of The Guardian. Blechacz accepted the request to play on this day with a very short notice to replace Maria João Pires.
Original review by The Guardian
Written by
Erica Jeal
(Quote of the part related to Blechacz's performance)
"Six years ago, Rafal Blechacz cleaned up at the Chopin piano competition in Warsaw, taking home every prize on offer, yet at 26 he is still a relatively unknown quantity in UK concert halls. Even here, he was a late stand-in; and, while he is not the same kind of pianist as Maria João Pires, he made those who returned their tickets when they learnt that Pires wouldn't be playing look pretty foolish.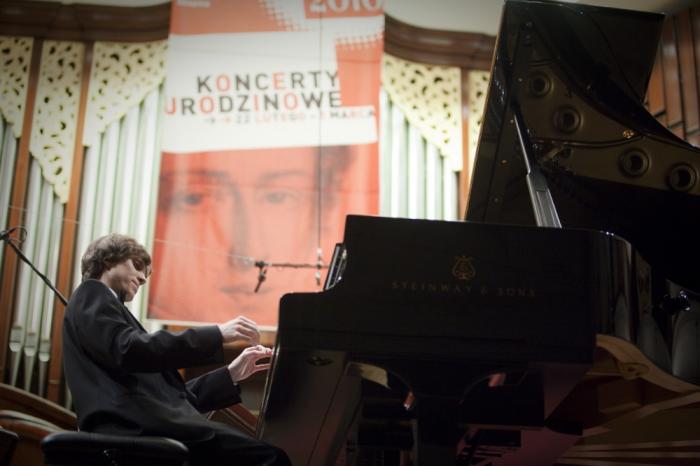 Feb.22, 2010 Chopin's Birthday, Warsaw
In Blechacz's hands, Chopin's showy Piano Concerto No 2 sounded easy. At times, almost too easy – some of the more restless, repetitive writing of the first movement came out sounding like a technical exercise. Yet this was only during the rare moments when the piano was in a supporting role. Whenever the melody passed to Blechacz, he handled it with care, and it is rare to hear this music sound so unencumbered by its own fiendishness.
**
The second movement didn't feel at all slow, and even if Blechacz did not quite realise its potential for breath-holding stillness, it still had a dreamy quality. The finale was best of all, Blechacz giving the dance rhythms an irresistible swing. If this was a public, formal dance, then his mazurka encore was a private one, nonchalant and breezy but silky smooth."
(Unquote)