Interview + review of the album compiled by Jacek Marczyński.
Original interview + review on Rzeczpospolita on Jan. 31.
(Japanese)
(Quote)
The pianist in another orbit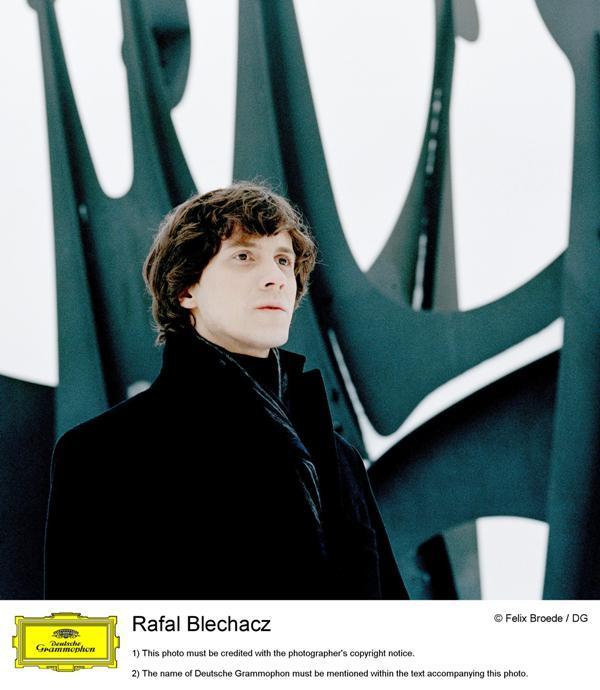 Rafał Blechacz often plays in the world nowadays than in Poland. His new album should suffice the fans in our country- says Jacek Marczynski

On February 7 when the new album by the Polish pianist hits stores worldwide, - his fourth one released by Deutsche Grammophon – Rafał Blechacz will be returned from Madrid after a series of concerts with the Orquesta Nacional de Espana. Then after taking a short rest, he will again be traveling in Europe: Italy, France, Belgium, the Netherlands and Luxembourg.

The itinerary is not promotional in nature. - When the disc is in stores, I'm not going back to it – says Blechacz, and explains his rules. – I present new works first in small halls and to most loved ones. When I've had with them a lot of stage experiences, then I start thinking about recording. However, I feel that it's worthy to have something persistent in entire life. My adventure with the cycle of "Estampes" by Debussy, which is on the new album, after all, commenced ten years ago.

The piano from Hamburg

- In general, the idea for this album was a contrast of two worlds: Debussy's impressionism and Szymanowski's expressionism - adds Blechacz. He is glad to talk about the long search for the most appropriate sounds for next works: - "Gardens in the Rain" by Debussy requires color of veiled silvery aura, lit. In turn, the "Pagoda" must be more golden color, the variety of nuances you can extract by thoroughly reading notes and with certain technical procedures, such as delicately using pedals. Also the question of the instrument is invaluable. I had to have a very good piano, which inspires the search for a variety of shades, on the other hand has tremendous bass, which is necessary for me to play Szymanowski sonata.

He found such an instrument in Hamburg: Steinway D, model D, the number 584 364. - I remembered it from my first performance in the city - he says. - Even then, I thought it would be great to Debussy and to works of greater intensity of dynamics. It was before checking with other pianos, but after all I just returned back to it.

The album can also be considered as a farewell to the label of the winner of the Chopin Competition, with which he began performing around the world. After more than six years have passed since that success, he says that he is now on a different orbit.

- When I go out on stage in Paris, Amsterdam, Berlin or London, I am aware that the audience knows whose concert they came for - he adds. - They remember me from previous appearances and want to listen to my interpretation. These things can be felt after welcome applause. And when I try a new repertoire, I wonder how the repertoire will sound in the halls familiar to me.

When I ask him why he rarely plays in Poland, he said: - It is impossible to be everywhere in a season. Europe and America have a lot of countries and concert halls. Recently I took inventory and found that during the past six years, I gave about 30 concerts in Poland. True, most are immediately after the competition.

Country house

Moreover, he tries not to work too much, so he gives about 40 concerts a year. In fact, almost immediately after leaving the stage, he goes to the next town. He prefers travelling by car to by plane and the adrenaline after the performance would not allow him to sleep. He is often accompanied by his father, then they change the wheel.

He talks little about his private life. He bought a house in the countryside near Bydgoszcz, so he can practice without problem in the evenings and at night, without disturbing the neighbors, as happened in the neighborhood in Nakło. Free time is for studies. He studies for the doctorate in philosophy at the Nicolaus Copernicus University in Torun. - When I have a break between concerts, I participate in seminars - he says. - Besides the study of philosophy is first of all reading, and I can read anywhere in the world.

He started writing a thesis of aesthetic of musical work, but for now he prefers not to tell if doctorate dissertation will come out from here. - It is primarily an investment in my own development - he says - philosophy helps in the interpretation of music, and although it's difficult to prove its direct influence, it certainly inspires me. This theoretical background helps navigate through the world of art.

His artistic future is carefully planned. This year he manages to maintain a balance between solo recitals and concerts, but the first half of 2013 will be marked by the performances with the orchestra. Then in contrast, he wants to present in chamber music. – I'll play with Daniel Stabrawa, a concertmaster of the Berlin Philharmonic – he reveals. - We chose sonatas by Mozart and Szymanowski, and we' are setting the rest of the program.

This year there will be no occasion to listen to him in our country. Interesting to see whether the disc would be such a success as the previous ones. Also in the world. Previous discs sold over 160 thousand copies, few artists of Deutsche Grammophon can boast such a result.
(End of Interview)
*****
Review by
Jacek Marczynski on the album:
The album may surprise those who only see the Rafał Blechacz as Chopin specialist; he has been interested in Debussy and Szymanowski for a long time. He feels at home with these music with specific colors, sublime sounds, based on classical forms, which both composers treated in an original way. In the album, there are classical Debussy ("Pour le piano" with Sarabande and Toccata) and impressionistic or Oriental and Iberian climates ("Estampes"). In both cycles of works Blechacz played in a compelling way. Another words of appreciation are due for the promotion of Szymanowski - the less known, because he wrote the Sonata in C minor at the age of 22. The Pole showed that this work is really the great class.
(End of review)
*****

The description of the piano from Hamburg reminded me of the news in 2006 when Blechacz found his own Steinway in Hamburg.

"At Steinway's Hamburg Factory, May 2006, Purchased his own Steinway. Gave a special recital for the workers of the Factory. Concluded an exclusive recording contract with Deutsche Grammophon, the label of Rolls-Royce for classical music according to Julian Sykes, during this trip."

"It was, according to the pianist, no real competition. Once he played the model B Steinway, number 575 336 to be precise, he knew he had found the instrument with his name on each and every key. Boasting a 211cm length, its sound, rich and multi-colored, sang to him." (From Steinway & Sons, owners' magazine, page21)

Thanks to a fan in Poland, I had the opportunity to hear the recorded performance that he gave for the workers of the Factory. Serene sound of Mazurkas.

Another interview that popped up in my mind is the one from his recording "Chopin Complete Preludes" in Hamburg, in the summer, 2007. He had four instruments waiting for him as candidates and found the one fitting very well with the compositions.

Following performances of this artist, sometimes I can hear the news that a piano for the concert was very good and I'm very happy to hear that.

The piano used for the recording is the one that he played for the first recital in Hamburg and other concerts with orchestra, according to another interview. (meaning the piano from Laeiszhalle that we were able to hear via radio/TV broadcast.) I am deeply impressed by the fact that the best instrument appeared in front of him a few years before the recording, but at a time when he already had the wish to record Debussy and Szymanowski.

I sometimes feel that he is the artist under the protection from Heaven, receiving necessary inspiration and guide in a timely manner.