TVP broadcast Rafał Blechacz's interview on April 21 and the whole program was uploaded on Youtube.
Prawdę mówiąc - Rafał Blechacz: kocham grać na fortepianie
(To tell the truth - Rafał Blechacz: I love playing piano)
The interview was filmed at Hotel pod Orłem
**,
Bydgoszcz where Artur Rubinstein stayed and played piano five decades ago. During this clip, Blechacz touches and plays the piano. Also you'll have a glimpse of young Blechacz playing Mozart, at age of 9 and 19; the latter: Concerto No.23, conductor: Jerzy Maksymiuk, orchestra: Symphonia Varsovia.
The interviewer's questions are mainly focused on music, especially Chopin's. The following website provides transcript of about 80 % of the conversation.
interview transcript
(Quote from the transcript)
The sound serves conveying feelings
Author: Krzysztof Ziemiec, "To tell the truth"
- This is probably the most beautiful in the instrumental music that has no words. It has sounds and with the help of these sounds, we can deliver a lot of things. Each listener can fill a work with your emotions, your associations, your memories - Rafał Blechacz said in an interview with Krzysztof Ziemiec in the program Prawdę mówiąc (to tell the truth).
Krzysztof Ziemiec: Mr. Rafał Blechacz, we are in a special place because it is a hotel "Pod Orłem (The Eagle)" in Bydgoszcz, in which he played, lived for a while and it still has an apartment of his name, Artur Rubinstein.
Rafał Blechacz: Yes, that's right. Rubinstein visited Bydgoszcz in 1960 and played a recital at the Philharmonic here. He actually stayed in this hotel.
Have you ever played the piano of Rubinstein, which is here in the apartment?
No, I haven't. Today, for the first time.
I invite you. Let's go upstairs, it stands there.
All right, thank you.
Do you feel respect, sitting at the piano, which Arthur Rubinstein played?
It is probably just such a magical moment in which we can somehow come into contact with this - remembrance of great arts, great masters.
Do you feel that you are a celebrity?
No, I do not feel I'm a celebrity, because serious music, classical music may not be at such a highest level of people's interest, as is the case for example in other fields.
But there are many interviews, television, and also you have a fan club. At least one, but maybe more!
Yes. This is official fan club in Japan, which follows me when I'm at concerts in that country. And also a part of this fan club comes for several concerts in Europe.
And sometimes these fans do not give you peace?
Well, this is a nice fan club ...
But one of the girls made a marriage proposal to you.
It was at a press conference at the Polish embassy. She was Japanese, who actually proposed in Japanese, and it was translated. And she wanted to be such a wife in Japan.
Meaning it is somewhat without obligation!
Uh, I do not know. Then fortunately, my artistic agency that organizes my concerts proved to be useful. And my manager said that for now I'm at the beginning of my career, because it was shortly after the Chopin Competition, and they really would like me to be focused on playing a particular repertoire in Japan, and any other non-musical things can come a little later.
And why Chopin attracts? Why he charms? After all, Chopin attracts not only Poles, not only Europeans, but perhaps even especially Japanese.
I think it is a peculiar connection of beautiful melody with harmony to a certain state of melancholy, which is very close to Japanese. I think they perceive music of Frederic Chopin through a prism of his personality, which is in a sense melancholic. And when they, for example, meet with Chopin's music - mazurkas, waltzes and nocturnes, which carries in itself a very strong element of lyrical, beautiful melodies, they are very often moved when in touch with his music.
What was the beginning? When your dad saw that you had potential and made you sit at the piano and said, 'This note is here, my son, this is the key "?
No, my dad tells me what he noted; that in particular these melodies that I heard for example in the church or on television, I started playing by hearing. Later, and also at the beginning, it was only right hand, or one voice melody, and then I started playing with two hands, and selecting specific accompaniment to the given melody. And my dad noticed that it was already predisposed.
So nobody made you show that you can play with two hands and you came up with this idea by yourself?
Yes.
How old were you?
I was 4 or 5 and then 6 years old.
Genius, an inborn genius!
My father discovered the absolute pitch that I have. It just happened very spontaneously, because he played it for himself and I suddenly started to say how he played sounds, even chords which he played later. I was able to name all components of each chord without looking at the keyboard. Well, it was also a determinant that something must be done and music education should be undertaken.
What does it take to become a virtuoso? I guess, however, talent and absolute pitch is very important, but perhaps it's not enough, right?
Of course,
talent alone, or perfect hearing is not enough. You need systematic work, work day-to-day work, which allows you to master a piece immaculately, perfectly from technical aspect, and which later allows you to deal with what is most important in the interpretation, namely, music making;
searching for different, interesting details, colors of sound, studying, and so on and so forth.
If I ask you mathematically – what percentage is for talent, what percentage is for luck and hard work?
Ignacy Jan Paderewski said that 90 percent of it is hard work, 6 percent is talent and 4 percent luck. Well, I'd probably agree with it.
Today as a grown man, don't you feel a little something like this; that for all that, you were buried under the shade? That you were not in contact with your peers and colleagues, that somewhere these contacts were broken by force, that you don't have what you could have obtained?
No, I do not recognize it. Because actually I have very pleasant memory of childhood. I could always do what I liked most, and what I loved most - playing the piano. I suppose if someone had told me to do something else, then my memory would be slightly worse.
So if instead of the piano you were kicking a ball it would not be so good?
I also played a ball a bit, and have very pleasant memory of riding a bike, talking with peers. I had a normal life in the playground.
In which year did you think of the Chopin Competition for the first time and thought "I can start"?
I thought about it already as a child. Of course I watched various reports from earlier Chopin Competitions, I followed all the Chopin Competitions, and somewhere such thoughts appeared that could be used in future to try my ability at this contest.
And the great luck came in 2005. You were the undisputed leader and winner of the Chopin Competition. And probably it was the biggest breakthrough in your career, right? In your work, and your professional path so far.
Definitely yes. It was the biggest challenge in my artistic life.
(Here Blechacz talks about the competition; that he put himself separated from the atmosphere of the competition, the big joy and excitement when winning it, how his life changed dramatically and so on. I'm skipping three questions and answers because I believe these are the things that many of you already know very well.)
And how can you explain to a layperson what the power of this piece, its message is? Because when someone like me listens to popular or entertainment music, - there is also a text, sometimes wise, sometimes less wise, but it talks about something. In this music, there is no text. There is only music, notes written on the score. In this music to capture this power, the message, what does an artist want to tell us?
I generally think that this is probably the most beautiful in the instrumental music that has no words. It has sounds and with the help of these sounds, we can deliver a lot of things. Each listener can fill a work with your emotions, your associations, your memories
Ingolf Wunder, the man who was touted by the public two years ago as a laureate of the last Chopin Competition, says about you, that you are an intellectual musician, and he is more emotional. Is this right?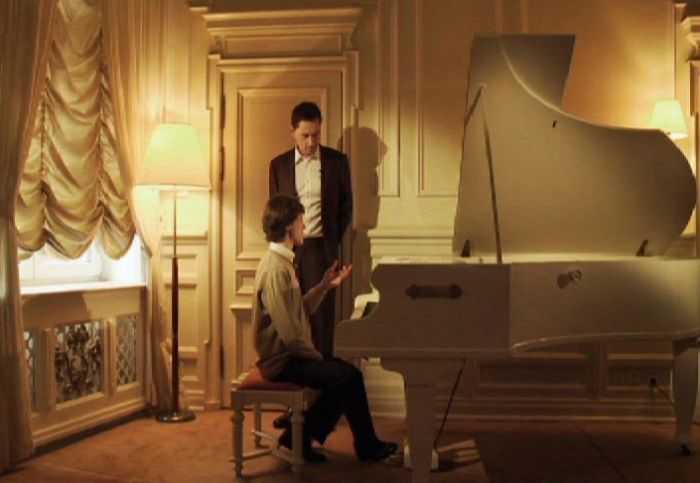 For me, emotions play a very important role in music, while the balance between intellectual sphere in music and emotional sphere is very important.
And what does it mean that someone interprets in an emotional way, and how he talks about you is, in an intellectual way? The layman does not differentiate it completely.
Some interpretations that are focused solely on emotions could spoil the work itself a bit, its structure. They could explode inside the form, for example, the form of sonnets, when we present a classical sonata. However, a role of intuition here is very important to keep style of composer, style of Chopin and to show some emotions in the piece that are emotions of the performer. Because the piece, sounds are used to show their feelings.
Mr. Rafał Blechacz, you are extremely busy person. It was very difficult for us to arrange to meet with you. Do you have something to spend your time in your life? Do you have time to relax?
Yes, of course! Well every Christmas and Easter holidays I spend at home with my family. This is already a tradition that cannot be otherwise.
How many concerts a year does such a star like you give?
I do not play a lot of concerts in a season. Approximately forty-five to fifty.
And what does Rafał Blechacz do after hours? Fishing, riding a motorcycle?
I like reading books, I like riding a bike. Before Chopin Competition I remember that I practiced jogging a little to strengthen me physically, to survive this period of Chopin Competition, to plan well my physical strength, with good mental disposition for this event. And indeed it helps.
The pianist performing works by Chopin, Szymanowski and Debussy listens to anything other than classical music at all?
If you come to me some other signals from other non-classical music, entertainment music, are only through radio or television that I sometimes see.
How do you evaluate, receive those tracks that are dropped often on the radio?
Hard to say. This is not something that I concentrate on, somehow not close to me.
But you then disable the radio, in case of a hit-song?
No, not always. Sometimes it is also very cool music and you can relax at most.
I have the impression that a large part of the audience and some jurors like those artists who give shock, or a dress, or performance or behavior on stage. You don't belong to this group. It's good or bad? You are the one who adopts the principle that you'll never give shocks, that you'll be a natural artist?
No, it's not a rule, not a planned strategy. This is probably the result of what I feel inside me, internally. It is perhaps also my personality that controversy has never something close to me. And I think that
in music, in the presentation of specific works of a composer, for me it is important that this composer is always most important to us and to show his works, and not to destroy it just in order to give shocks to somehow attract attention.
A piece of music is to some degree schematically written. We cannot read everything from the score so unambiguously. And these vague places request the performer for individual fulfillment. Everyone has a lot of artistic freedom to be able to present his individual interpretation.
And how is the calendar of Rafał Blechacz for the coming months, years?
The calendar is quite busy. Currently I'm planning for 2014. About seventy percent has been already planned. One proposal recently came in 2015, so it's quite long term. It's not so shocking as was shocking to me just after the Chopin Competition.
It is almost inconceivable in the real world to plan so distant future!
Well, I feel rather optimistic, because it is an assurance that I will have a job.
Does philosophy is a springboard from music, and maybe it has been for some time? Because you are working for doctorate in philosophy.
Yes, that's right. Philosophy is a springboard, but it is also the next inspiration.
From where this idea came, because it seems to me that philosophy and music are not connected in a straightforward manner.
I am very focused on the philosophy of music. In these texts, however, I treat work of art, artistic subject and aesthetic subject. And here it is already very close to music, even to those aspects which I deal with every day.
As such a virtuoso, an artist, how do you feel more stress? Do you feel fear before audience, before concert?
If there is stress, it is a good state of situation. If there is no, one might wonder if it is a routine, if there are a lot of concerts in the artistic season. On the other hand, when there is a certain state of excitement, desire to go onto the stage and present interpretation to the audience who came to listen to me, this is a positive phenomenon.
Do you have some way to deal with this stress, to mitigate and reduce the overwhelming situation?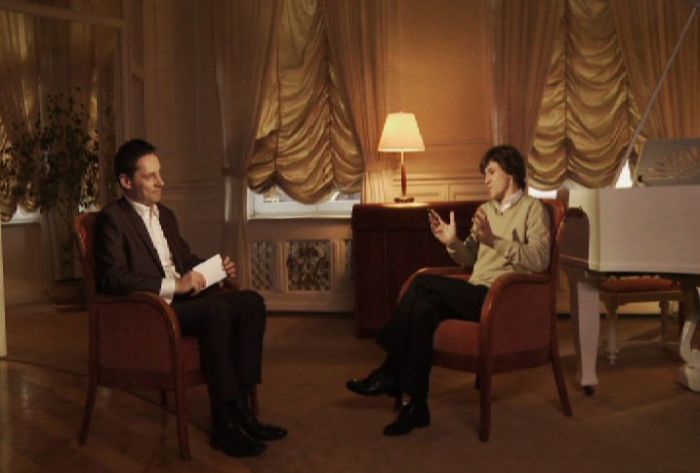 No, I have never had such strong emotions that I had to somehow mitigate. It is always such a desire, which drives me towards going on the stage and present the work.
In one of the interviews, you once said that your way to deal with stress is prayer, but I guess it was so. Now you no longer have stress?
Prayer, or faith is a very important sphere in my life. And not only it is helpful in a variety of stressful situations in life, but also is the basis on which I can build more concrete things. And in all the challenges, not only artistic ones, but also in life, it is the surest solution, the surest support. It is something that always brings relief.
Like Adam Malysz who on jumping made the sign of the cross, you offer prayer out there in the soul to work out well.
Yes, of course. I pray before every artistic challenge, before every challenge in life, but also when I don't have challenges, of course, I pray every day, like every Catholic.
Rafał Blechacz - world-famous pianist. Victory in the Chopin Competition in 2005 opened the door to an international career. Gives concerts throughout the world, but still lives near Bydgoszcz
(Unquote)
*****
(Note: ".......not evertyhign is quite well in English but there is nothing languagewise that would make it misunderstood or wrongly understood". by a Pole who checked this English translation.)