The way Rafał Blechacz plays a piece from Hanon in this video has been a subject of discussion among music lovers and amateur pianists in my country for the past few months.
See the interview video
Blechacz begins playing Hanon at 7:28.
He brings us up to another dimension even with a practice piece like this.
An amateur pianist said it's like a machine-gun. She said that the evenness and fluency he plays with is the most excellent among the top-class pianists of the world.
I remember when I attended his concert overseas, before the doors opened, I heard his practicing scales from inside the hall, at ultra-super-high speed, with very powerful sound; the runs were unbelievably even and fluent.
And I remember an interview that Blechacz gave to Japanese magazine "MusicaNova, Oct. 2007". The topic was how he practiced playing piano when he was a child.
(Excerpt)
At the age of six, he received a piano lesson from a teacher in the neighborhood for a year. He was enrolled in a primary school in Nakło and started attending Arthur Rubinstein Music School in Bydgoszcz. He studied under Jacek Polanski for six years.
"Prof. Polanski was really a great teacher. First, my lesson began with Bach: Preludes and Fugues. For classical works, I studied sonatas by Haydn, Mozart and Beethoven. As I recall, the first concerto I played was A-major of Bach (Bach cembalo concerto No. 4 BWV-1055).
In addition, to improve techniques, I worked on short but effective pieces a lot; e.g. Mendelssohn 6 Kinderstuche (Children's pieces) op.72, etudes useful for motion ability of fingers and short pieces of Moszkowski, a Polish composer."
He says that he worked on such piano tutors as Czerny, Clementi and even Hanon. From what I hear, there are few piano teachers in Germany and other countries who use Hanon recently. But Blechacz says that he starts day to day practice with Hanon for warm-up even today. His teacher gave him Chopin Etudes in addition to these tutors. For example, he was involved in Etudes F-minor of op.25-2, three Nocturnes of op.9 and two Nocturnes of op.32 in relatively earlier age.
(End of excerpt)
Read the whole interview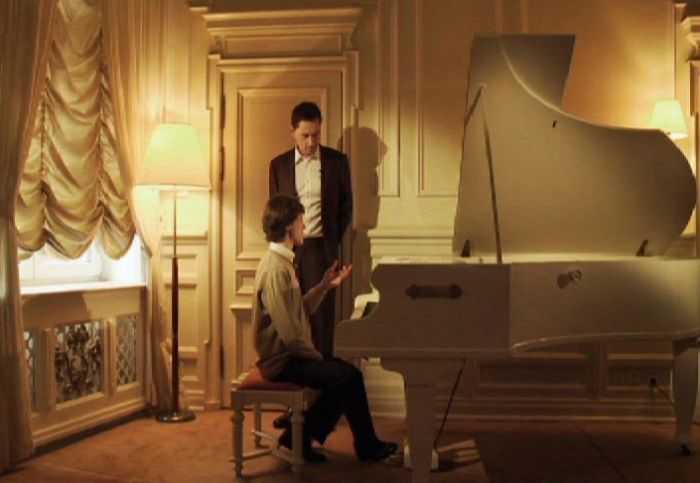 This is how his unbelievably robust skill was learned. When I read reviews of his performances, I notice reviewers struggle to find right words to express how his technique is great. In addition to most commonly used adjectives such as brilliant, distinguished, miraculous, even "diabolical"skill or "devilish"speed are used.
From the same magazine MusicaNova
Blechacz cherishes his teacher's words.
"If you play just at the assigned tempo, there will be some leftover unattended such as small mistakes or something that you can't express fully. It is important for you to begin at a slower tempo in order to capture every note. Once you practice at slower, middle and a little accelerated tempos, then try to play at the assigned tempo. This approach is in fact the shortest way for you to attain your goal." (Jacek Polanski)
And Blechacz's remark from the interview video mentioned-above
"Of course, talent alone, or perfect hearing is not enough. You need systematic work, work day-to-day work, which allows you to master a piece immaculately, perfectly from technical aspect, and which later allows you to deal with what is most important in the interpretation, namely, music making; searching for different, interesting details, colors of sound, studying, and so on and so forth. .....Ignacy Jan Paderewski said that 90 percent of it is hard work, 6 percent is talent and 4 percent luck. Well, I'd probably agree with it.
Japanese
*****
Some of the images and literary works on this website remain the property of their owners. No copyright infringement is intended.
Visitors are asked to contact
personally before quoting any material which is exclusive to