Written by
Tsutomu Nasuda
for "Record Geijutsu (=music, arts)" April 2012 which gives Blechacz's CD Debussy Szymanowski the status of "specially selected disc".
Sorry for the delay in posting!!
Debussy and Szymanowski – with his pianism and personality, Blechacz admirably juxtaposed the two composers who apparently are not directly connected. "Pour le piano" is veiled with pure white lyricism, a different trait from dazzling illumination of impressionist oil paintings. How brilliant his finger flows are in marvelously rendering "Toccata" in a youthful and smart manner! In "Pagodes" of "Estampes", the delicate execution of peripheral demisemiquavers is really characteristic of Blechacz. "Soiree dans Grenade" is refined and intelligent, not carried away by Latin passion or sensuality. Through the lively touch I sense that Blechacz genuinely enjoy performing it. This is also audible from the elastic and pliant touch in playing "Jardins sous la pluie".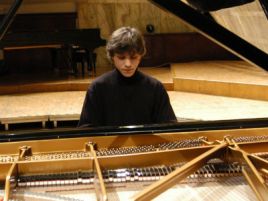 Courtesy TVP.pl
All the pieces of Debussy are terrific but I think the highlight of this album is Szymanowski's music. Furthermore, when I revisited Debussy's pieces after going through Szymanowski's, I was aware of what is interesting about Debussy anew that I missed at the first time. His "Prelude" in "Prelude and Fugue in C sharp minor" marries sophisticated intelligence with a sprout of fantasy. The way he unobtrusively begins "Fugue" is fascinating, so is the aftertaste of the last notes sinking in deep thought. In "Sonata No. 1 in C minor op.8", Blechacz holds us enchanted by his devoted, unpretentious expression. A superb performance of the second movement is refreshing and leaves the listeners profoundly impressed. The touch of tinkling of a bell in "Tempo di Minuetto" is charming and the interpretation of the final movement is elaborate, full of exquisite emotions. The outstanding performance makes us recognize the fascination of this piece anew; avant-garde and mystic; a delicate and transparent poetry, something in common with Debussy's pieces in this album.
(End of review)
Nasuda wrote an essay for the program booklet of Blechacz's 2010 Japan tour
In 2009 Blechacz gave an interview to Nasuda.
**For Blechacz's next Japan tour (2013) flyer, Takaakira Aosawa has written a beautiful essay about Blechacz's music. I'll post it when it is officially made available by the organizer.