Seven years ago today (Oct. 21) Rafał Blechacz swept all the awards at the 2005 Chopin Competition in Warsaw.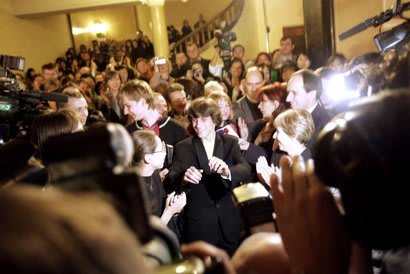 Since then, we have been always inspired by the indescribable beauty of his playing,
full of emotions and thankfulness.
Mazurka in C minor Op.56 No.3
What is he doing today, the special day for him as well as for his fans?
My guess is....he goes to church as it's Sunday, then he is playing piano (or organ?)
" I'm like a bird who has no day when he doesn't fly. I have no day when I don't play piano (laughing)". (
Interview with Tsutomu Nasuda, in Feb. 2009
)
Or reading books of philosophy?
Best wishes for his continued good health, happiness and success!
***
"It's all about inspiration", the narrator says when Blechacz starts playing.
"Suddenly, the entire music hall is inspired.
His concerto in E-minor wins the hearts of the public".
(From a documentary of the 2005 Chopin Competition on Frontline World)
→
☆
(Click on
Watch Video
).
Japanese