A review of Rafał Blechacz's recital in Oviedo, Spain, November 22, posted on ocio.lne.es.
Original review
(Quote)
An exceptional piano by the Pole
The Piano Days "Luis G. Iberni "sponsored by LA NUEVA ESPAÑA, returned yesterday to its essence with the performance offered inel Auditorio by the Polish pianist Rafał Blechacz, a truly exceptional interpreter with only 27 years of age. He showed a pronounced Polish sign in the evening, by his own nationality, by Szymanowski, also Polish, whose first sonata he played, really fantastic concept and execution, and even by double gratuity of Chopin.
The program followed the usual chronological order and as for compositors, it was from older to younger. It started with Bach and his "Partita No. 3", a piece he composed at 40. Fantasy, warm; Allemande, very beautiful; Corrente, overwhelming, Sarabande, of majestic execution; Burlesca, well surpassed despite the difficulties, Scherzo, very nuanced, and the Gigue, as if it is a complete work.
Turn to Beethoven and his "Piano Sonata No. 7", which he wrote at age 28. Presto, especially potent and rich Blechacz's hands, Largo, simply insurmountable, Minuet, as emotional pause, and the Rondo final announcing sonatas of posterior age. The "Suite Bergamasque" which Debussy composed at 28, changed the atmosphere but not the quality, especially in the delicate "Clair de lune" and then Szymanowski and his "Sonata No. 1", which he wrote with only 21. A prodigy whom Blechacz took to stratospheric levels. Two minutes and 50 seconds of applause and as encores, a waltz and a scherzo by Chopin (sic.)
(Unquote)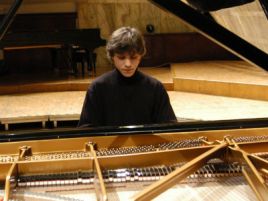 *****
Another review written by
Pablo Álvarez
published on his blog.
Original review
(Quote, partial)
The mastery of Blechacz
Thursday November 22, 20:00 pm. Auditorio de Oviedo, Piano Days "Luis G. Iberni ": Rafał Blechacz. Works by Bach, Beethoven, Debussy and Szymanowski.
There was no better way to celebrate St. Cecilia piano concert than the piano concert this Thursday. I can assume, since I have no grandmothers, having heard pianists who have made history or those who are going to do, and Polish Rafał Blechacz is surely one of them, and he now is making history. The works chosen for this tour are a real class of the piano master (leaving the public in Pamplona Baluarte stunned), nearly 300 years of history in four authors...
The Partita No. 3 in A minor, BWV 827 (Bach) was fresh, clean, of exquisite ornamentations, adjusted contrasts, complete neatness and fantastic execution in the seven dances that form a whole despite their differences, expository and interpretative unity, clarity in the voices, transparent phrasing, baroque mastery in the intimate piano.
A loved and lesser known Beethoven came with the Sonata No. 7 in D Major, Op 10 No 3, perfect continuity after the kantor, vigorous dash of Presto, serenity and maturity in Largo e mesto, joy in the Menuetto: Allegro, returning to the pure air, and Rondo: Allegro, luxurious climax where sobriety did not prevent enjoying incredible sonority and a new interpretive artistry, known by the recordings but where the live is unrepeatable.
After the break another step forward in time with two authors also collected in the discography of the Pole but the Steinway at Auditorium recreated them for full enjoyment. The Suite bergamasque (Debussy) was a spectrum of light and color, unique nuances, impressionist rich soundscape full of precise and beautiful delicacy, with a silvery Clair de lune of powerful influence on the public. If the recording is a jewel, for the live performance, I have no noun or adjective to describe these four numbers.
The work of Szymanowski seems to pull together all of the above from the Pole of the twentieth century in closing the masterly class of one hour and a half by the fingers of his compatriot. The Sonata No. 1 in C Minor, Op 8 showed to us another side of a huge diamond, filled with strength and new brightness, luminous dynamics con brio (Allegro moderato) in front of dark passages (Adagio), beauty of phoenix in the Tempo di minuet and marvelous authority in the double fugue of the Final which Professor Francisco Jaime Pantín described as follows; "explosive cocktail ... in a sonata which, although apparently excessive, maintains a strong internal cohesion by virtue of a system of thematic derivation in which the elements seem to relate to each other", and so interpreted Blechacz, exacerbated, bright, feverish, visionary, academic and of intellectual complexity. Theory and practice in its purest form.
Chopin is the Polish musician of excellence and now his best interpreter Blechacz, winner of the 2005 contest of his name, could not leave without giving us the Waltz # 3 in A Minor Op 34 No 2 to immerse us in the romantic piano as an epilogue of the lecture. And another piece, splendid in every meaning.
Rafał Blechacz near the exit, signing programs, disks, posing for fans and thanking our presence. Gratitude of the audience, healthier than usual and less than he deserves, but this would give a lot more.
The maestro of 27 years old who has broken into the history of the Great interpreters, and some think including myself that he is the pianist of the 21st century, and I hope to keep appreciating him.
(End of partial quote)