A review of Rafał Blechacz's
recital at L'Auditori
, Barcelona, on November 15, written by Jorge de Persia, posted on La Vanguardia.
Original review
Let me pick up paragraphs about Debussy and Szymanowski.
(quote)
In the path toward the greatest
L'Auditori has launched a highly desirable series, for which the Chamber responds very well: it began with a great Polish pianist, still very young, in the path toward the greatest. Blechacz, who in 2005 won the Warsaw Chopin Competition in a determining way; as he was in Barcelona we could assess his quality.
And exactly in the second part of the program he played a Debussy (Suite bergamasque) which was a synthesis of his virtues.
And he illuminated the intense and direct dialogue between the piano of the French and the one of his admired Chopin. And in both cases - because as a small gratuity he added a waltz by Chopin - we admired the fine touch, of brilliant and crystal sound, the phrase rich in inflections, ability to understand the personal style of each, and the restrained expression without reservation.
Another strong piece of the recital, Sonata no. 1 of Karol Szymanowski was an exercise of intense pianism, radiant, clear and precise in virtuosity, and even matured.
(unquote)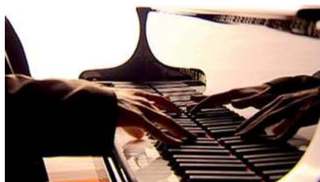 Another review of this recital by an audience member in Barcelona
Original review
(quote)
In the world of music, everyone has his own idols, having them so internalized as to believe nobody can unseat them. Among the renowned pianist, for me Daniel Barenboim and Maurizio Pollini among others, but also I admire Martha Argerich, Andras Schiff and Alexei Volodin. Especially it is difficult to think that someone young can oust such revered figures. But this was precisely the case with Rafał Blechacz on the day that I heard him in a recital at l'Auditori. The Polish pianist, of only 27 years, is for me a worthy successor to Pollini, now let me explain why.
In the music world, and I imagine in the world of art in general, not all the interpreters do everything. I mean no singer can sing any repertoire (even Maria Callas), but it is unusual that a pianist can embrace all pianistic repertoire. Someone off the charts perhaps can do it. For example, Barenboim excels and sublimes in Mozart and Beethoven, but is a disaster when playing Chopin. Pollini, on the contrary, is the only one that I know plays everything right: he has the skill to interpret Beethoven and the temperament to play Chopin. In Blechacz the same things happen.
Rafał Blechacz, yet physically he is an existence absolutely delicate and Apollonian, fragile and extremely neat. I would say that every time he appeared to play a new piece in the concert, he polished it up over the keys. He presented a varied program and executed everything so immaculately. He began with a Bach partita, in which he made the piano sound like a harpsichord, struck the keys in a precise, accurate manner, with perfect articulation of each note. It seemed like a harpsichord with sonority of piano. The Beethoven sonata, not the best known, was spectacular. He changed the form of playing in respect of Bach, here he alternated maximum expressiveness with meticulous and precise fingering not to allow any note to escape and to produce the sound of perfect articulation. He finished the first part of the concert having transmitted the feeling of being a musician absolutely Apollonian, like his figure, thin and fragile.
In the second half, however, he changed register. He played Debussy full of sensitivity and nuances and ended with his compatriot, Szymanowski, with the plethoric and spectacular sonata, in which Blechacz deployed exuberance of splendid sound that was not seen in Bach at the beginning. But at any moment he showed an absolute domain of piano, thanks to the exceptional technique. As an encore, and it couldn't be otherwise, he gave us a piece of his compatriot most famous in the world of piano: the waltz op. 34 no. 2 of Chopin. He was brilliant again. Throughout the concert he knew how to transport everyone to the world of perfection, he was as if entering into the world of Platonic ideas, because this young man is all prodigy. I would like to see him every time he comes to Barcelona. No one shouldn't have lost him.
(unquote)